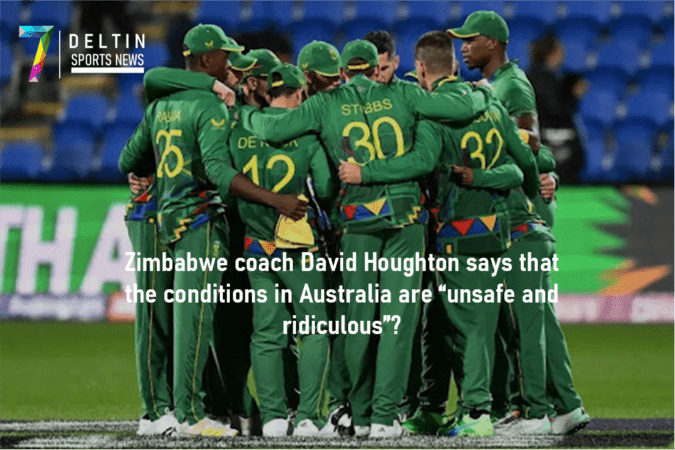 Zimbabwe coach David Houghton says that the conditions in Australia are "unsafe and ridiculous"?
South Africa was very nearly winning their men's T20 World Cup opener against Zimbabwe at the Bellerive Oval in Hobart on Monday when rain ended the match uncertainly.
South Africa was very nearly winning their men's T20 World Cup opener against Zimbabwe at the Bellerive Oval in Hobart on Monday when rain ended the match uncertainly.
However, it was the Zimbabweans who appeared more upset at that outcome with Zimbabwe Coach David Houghton damning the conditions as unsafe and "ridiculous".
The start of the match was delayed by more than two-and-a-half hours, and the game was diminished to a nine-overs-per-side affair. Interference saw South Africa's reply further diminished to seven overs.
Play resumed, but was canceled by umpires Ahsan Raza and Michael Gough with South Africa 13 runs away from pulling in their revised target of 64 and with two overs to be bowled to arrive at the five overs that would have comprised an innings.
South Africa was ahead of the DLS requirement at that stage, and would most likely enjoy held the benefit had five overs been bowled.
But Houghton didn't hold back in his criticism:
"The rain had got so heavy at one stage, it was ridiculous. For most of the evening, it was misty with mizzle, but it got to the stage where we could hear it thumping on the roof in the dugout. To me, that's no longer mizzle and drizzle. That's time to get off the field.
"And the field was wet when we started – it was wet when South Africa fielded. So they were difficult conditions for both sides. But it just got more wet as we bowled. When your keeper is sliding trying to move down to the leg side standing up to the spinners, it is too wet. I don't think the conditions were right to carry on playing."
Asked about his team's communication with the officials, Houghton said:
"I know that Craig [Ervine, Zimbabwe's captain] and [Sikandar] Raza had had a word with the umpires, and asked them what they constitute as rain because we're getting quite wet. Eventually, Sean Williams said, just as he was about to start bowling, that he didn't think he could bowl, that it was too wet. And then they called us off."
Houghton suggested the umpires were confused about the match situation when play resumed for the last time:
"After the first time we came off, when they reduced it to seven overs, there was a bit of a delay because no one seemed to know what the target was."
"He's laying in the change room with a bunch of ice strapped to his ankle,"

Houghton said.
"It's too early to assess the damage but we're not happy about the fact that he's not in a great space."
South Africa coach Mark Boucher said his team was keen to continue playing, but he didn't seem as agitated as Houghton:
"We're here to play a World Cup, and we wanted to play. It seemed like both captains wanted to play at the start. If you look at the game before [at the same ground, between Bangladesh and the Netherlands], the field was pretty wet as well. The bottom line is players don't make those decisions. The officials are there to make those decisions."
Boucher said his team had also struggled with the conditions in the field, and suggested their opponents were protesting too much:
"We were in a very good position. So if we walk away from this game thinking we were hard done by and whether the game should have taken place or not … If Zimbabwe were in our position they would have wanted to carry on playing."
"Yes, we haven't had a good history with rain,"

Boucher said.
"But rather have it happened in the first game when we're still in control of what we can do."
South Africa's next match is against Bangladesh in Sydney on Thursday. A 70% chance of rain has been figured.