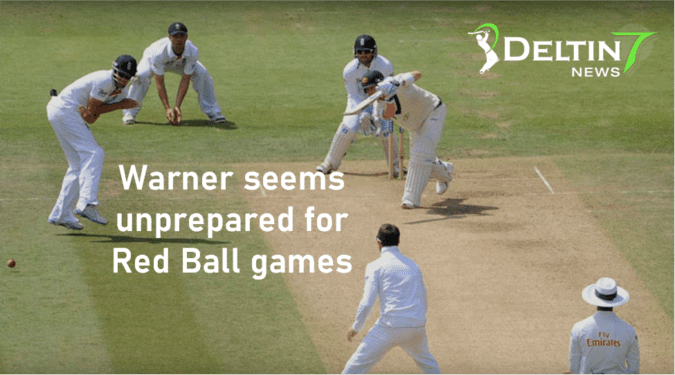 David Warner seems unprepared For Red Ball games
David Warner has been Australia's star Player for a couple of years now. However, he was struggling in test cricket. West Indies cricket team has toured Australia for test series and a couple of T20 and ODI matches. The ongoing test matches have lifted the curtain on the performance of some players, such as David Warner.
David Warner was criticized because he had failed to score a century after a long number of games. After the first test was finished, Usman Khwaja was asked by multiple journalists about the Australian Test opening concerning his performance.
In return, Usman Khwaja gave sharp replies to journalists and defended his teammate. Usman Khawaja was of the fact that David warner hasn't played a test match for six months straight, so it will take him some time to adjust and get into proper form.
Furthermore, when the game started, Australia chose to bat and played the first innings of the test match considerably very well. Usman Khawaja and his partner Marnus Lambuschagne held their ground and player for a much longer time as compared to the other players in the team. The first-inning runs were quite decent, however, they also managed to stop the West Indian team from scoring runs.
Their bowling strategy had to be appreciated because they made sure to take wickets on time and prevent any partnership from taking place. Their bowling had to be complemented because they performed exceptionally well on a pitch giving an advantage to the batsmen.
Lambuschagnes has always remained a fan of the Pearth Cricket stadium because he managed to add another century to his statistics by playing in this stadium. As a total, he has now 7 centuries scored at home with two at the Perth cricket stadium. On the other side, Usman Khwaja scored a solid 65 runs.
Although it wasn't too much, it certainly helped the Australia Cricket team to strengthen their position on the first day of the test. Furthermore, it created a perfect base for Steven Smith to also score a half-century.
However, all eyes were on David Warner who hasn't been performing very well in T20 matches as well the day Internationals. Almost every player in the top and middle order performed, except David warner. He hasn't played a test match since July last year as he was more interested in playing the T20 and the day international matches including the t20 World Cup in Australia.
Most experts of the game were of the fact that David Warner really couldn't get the time to prepare for the test series due to constant series in other Cricket formats.
David warner was dismissed for just five runs on the 16th ball. He did try to hit the ball with variations and did land a shot or two. He tried to hit the ball on the cover but missed and was almost caught on the edge. On the next day, the ball went up in the air but failed to land near any fielder. However, it finally flattened his leg stump, and was sent to the pavilion with just 5 runs off the bat.
However, Usman Khwaja maintained the game and kept his cool. There were a total of five West Indian fielders on the slip, but Usman was very careful and didn't give away a single edge. Other players especially Labuschagne who was more eager to hit shots and scored a century.
It is difficult to perform in all formats, but Usman Khwaja and Labuschagne kept their cool and manage to score runs giving their team a strong lead in the test series.