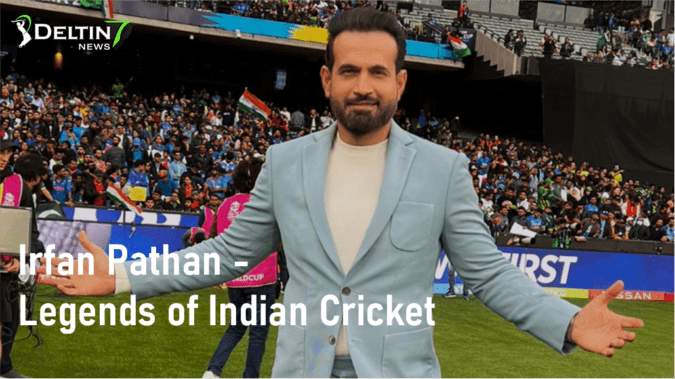 Irfan Pathan | Legends of Indian Cricket | Heroes of Indian Cricket
Irfan Pathan was a bowling all-rounder who represented India for nearly a decade. He was a key part of the Indian cricket team that lifted the inaugural ICC World T20 2007 and the ICC Champions Trophy 2013.
Early Life | Legends of Indian Cricket:
Pathan was born on October 27, 1984, in Baroda, Gujarat, India, to Pashtun (Pathan) parents and is a member of the Pathan community in Gujarat.
Cricketing Career | Legends of Indian Cricket:
Irfan Pathan's test debut came against Australia at the age of 19. However, it seemed like he already belonged there. He was bowling at a fast pace and causing havoc with his left-arm swing. He was vital in India's one-day and Test series victory over Pakistan during their revival tour in 2004.
His batting rapidly took off, and he was routinely promoted up the order in ODIs under the management pair of Rahul Dravid and Greg Chappell, with a promotion to No.3 immediately generating a stunning 83 against Sri Lanka in Nagpur. He was much than simply a clean ball-striker, though, and his calm, straight-bat technique frequently saved India in Tests.
However, following his hat-trick in Karachi, his bowling form deteriorated, with his speed falling dramatically, and he failed to reach both the Test and ODI squads by the end of 2006. In 2006, he was returned from a tour of South Africa to concentrate on local cricket.
He was included to India's World Cup squad in 2007, but did not play a single game during the team's disastrous campaign, and was afterwards discarded from both the Test and ODI teams.
Pathan was selected up for the inaugural World T20 in September 2007 and did not disappoint, taking 10 wickets at 14.90. He was named Man-of-the-Match after bowling 3 for 16 in the final against Pakistan.
Irfan returned to the ODI squad for the home series against Australia and Pakistan, and shown that he had recovered his rhythm, earning him a recall for the third Test against Pakistan in Bangalore. He marked his return by scoring his first Test century.
He was then selected for the Test series in Australia, and came into the team for the third Test in Perth, where he played a key role in India's memorable triumph, taking five wickets and scoring 28 and 46 to win Man-of-the-Match.
Irfan was dropped from the India team in 2009 and suffered with injuries and a loss of form. After the 2010 IPL, he was side-lined for eight months due to a back ailment, and he missed the whole domestic season. That didn't stop the Delhi Daredevils from paying $1.9 million for him at the 2011 IPL auction in January.
After a mediocre IPL season, he shone in the 2011-12 Ranji Trophy, finishing as the tournament's highest wicket-taker after four rounds. His achievements won him a return to the national team for the final two One-Day Internationals against the West Indies in December 2011.
During the one-day series in Sri Lanka in 2012, he came into his own, finishing as the greatest wicket-taker and most economical bowler. He played all of India's games in the 2012 World T20, which was also held in Sri Lanka, before suffering another injury.
Career Stats:
In 29 test matches, he scored 1305 runs at 33.89 and picked up 100 wickets at a bowling average of 32.26. In the ODIs, he scored 1544 runs at 23.39 while picking up 173 wickets. In the shortest version of the game, Irfan Pathan scored 172 runs at 24.57 in 24 matches while picking up 28 wickets at 22.07.
His record could have looked much better had he not faced all these injuries.
IPL Assignments:
Irfan has not played international cricket since, but he, like his brother Yusuf, is a popular name in the IPL. He has played for Kings XI Punjab, Daredevils, and Sunrisers Hyderabad, as well as Chennai Super Kings, where he did not play a single game due to injury. With Super Kings banned for two years, Irfan was purchased in the 2016 auction by the new franchise Rising Pune Supergiants for INR 1 crore.
Retirement:
Irfan Pathan officially announced his retirement from all forms of cricket in January 2020.