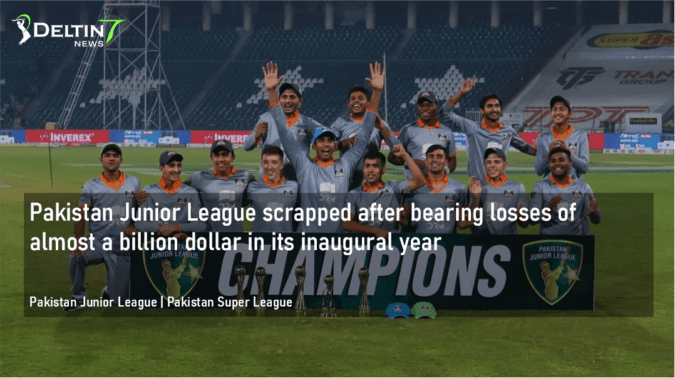 Pakistan Junior League scrapped after bearing losses of almost a billion dollar in its inaugural year
Pakistan Cricket Board has scrapped the idea of a Pakistan Junior League after its failure in the first season. PCB has decided to reengage the home and away series of junior cricket teams. Age-group cricket has contributed a lot to the growth of Pakistan Cricket. PCB plans to continue with the traditional system.
Huge losses reported in the first season of PJL:
The huge losses sustained in hosting the inaugural event were exposed in a board financial report. According to the source, the two-week competition cost around PKR 997 million, with the PCB earning just PKR 190 million.
Ramiz had signed an MoU with a business for the commercial and management rights of the PJL a week before he was dismissed from office; the arrangement was for 20 years and was for PKR 55.5 million per year. Last Monday, Pakistan's federal government dismissed Ramiz and his Board from office and annulled the PCB's 2019 constitution.
Now, a 14-member management committee chaired by Sethi has been given full executive powers and ordered to restructure systems to fulfil the criteria of the PCB constitution as amended in 2014.
This new management committee has subsequently launched an internal audit of Ramiz's 14-month mandate, with the PJL under special attention due to the magnitude of connected spending.
What were PCB's plans about PJL? Why did the board bear so many expenses?
When the PJL was launched, there were ambitious intentions to base it on a franchise model, but bidder turnout fell far short of the board's expectations. As a result, the PCB was compelled to shoulder the costs of assembling and running the teams alone, and subsequently, title sponsorship and other commercial bids also failed to bring in profitable partnerships.
Despite the lack of interest in the market, Ramiz's PCB opted to proceed with the league, seeing it as a strategic move.
Where did all the money go?
Even though Cricket is the most popular sport in Pakistan, neither the national team nor the well-established PSL can realistically attract rich sponsorship agreements. For the PJL, the reaction to title sponsorship rights and digital streaming rights was lukewarm at best, much below Ramiz's expectations: four firms bid for title sponsorship rights, and one broadcaster bid for digital rights, but bids were lower in both cases.
The PCB spent PKR 286 million on TV production but was unable to get a lucrative broadcast arrangement, instead teaming with PTV, the state-owned broadcaster.
Furthermore, some of the PJL match payments paid to "elite" players were higher than what a senior Pakistan player would receive for a T20I. The league featured six teams comprised of 15 local and international players between the ages of 15 and 19, chosen through a draught process and classified into three categories: four elite players earning USD 16,000, five premier players earning USD 12,000, and six X-factor players earning USD 6,000.
Shahid Afridi, Daren Sammy, Javed Miandad, Colin Munro, Vivian Richards, Imran Tahir, and Shoaib Malik were also named as mentors for each squad by the PCB.
PCB to revive home and Away bilateral series for junior teams:
In addition to announcing the cancellation of Pakistan Junior League, PCB also announced that it will revive the bilateral series at the age group levels on a home and away basis. The age group cricket has contributed a lot to Pakistan's national setup with players like Imam ul Haq, Babar Azam, Sarfaraz Ahmed and Shaheen Shah Afridi coming from the under-19 setup.
Read more: Cricket legends of India All Time