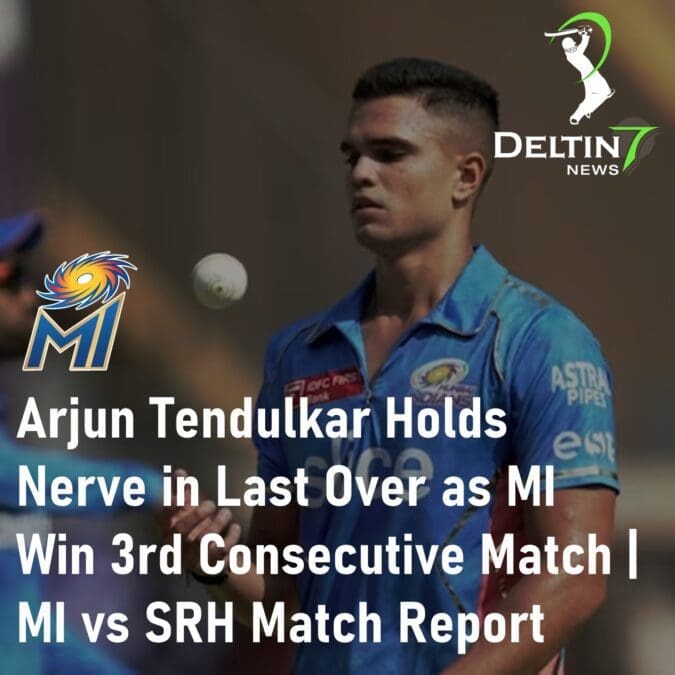 Arjun Tendulkar Holds Nerve in Last Over as MI Win 3rd Consecutive Match: In the 25th match of the Indian Premier League on April 18, 2023, Mumbai Indians beat Sunrisers Hyderabad by 14 runs at Hyderabad. It was Mumbai's third consecutive victory, which moved them two places up the table to the sixth position, while Sunrisers Hyderabad remained in the penultimate position.
Both teams displayed a lot of skill and dedication, and the match saw some great moments from both sides. Mumbai's middle order scored 192 runs on a pitch that was not particularly favorable for batting, and then their bowlers defended the total well to secure the win.
The match started with Sunrisers Hyderabad opting to bowl, and they brought Washington Sundar into the attack in the third over to bowl against Rohit Sharma, who had a poor record against him. Rohit, however, turned things around by targeting the bigger leg-side boundary and hitting two fours behind square, followed by one through cover-point.
Arjun Tendulkar MI Win 3rd Consecutive Match Mumbai Indians vs Sunrisers Hyderabad
He continued to attack, and hit T Natarajan for sixes over mid-on and through the fine-leg region. But Natarajan got his revenge when he bowled a slow cutter on Rohit's pads, and the Mumbai captain chipped a catch to mid-off to depart for 28 runs off 18 balls. Ishan Kishan took over after Rohit's dismissal, and took Mumbai to 53 for 1 at the end of the powerplay.
Sunrisers' Marco Jansen struck twice in the 12th over to remove Kishan and Suryakumar Yadav. He first bowled a short ball to Kishan, who miscued it to mid-off, where Aiden Markram took an excellent catch. Four balls later, Yadav chipped a slow cutter to mid-on, and Markram completed another catch.
Sunrisers' fielding had been a problem for them earlier in the tournament, with 11 catches dropped so far. But Markram's efforts set an example for his teammates, and they fielded much better in this match.
Mumbai's innings could have slowed down after Jansen's strikes, but they kept up the search for boundaries, and Cameron Green and Tilak Varma took on Sunrisers' best bowler, who had been economical until then.
Arjun Tendulkar MI Win 3rd Consecutive Match Mumbai Indians vs Sunrisers Hyderabad
Green used his height to hit big shots, while Tilak Varma displayed clean hitting and supple wrists against the spinners. The two batsmen added 56 runs in 28 balls to lift the run rate from 7.78 to nine an over.
Bhuvneshwar Kumar then used his experience to concede only 14 runs in the 17th and 19th overs, and Mumbai finished on 192 for 5.
In reply, Sunrisers Hyderabad lost wickets at regular intervals, and were reduced to 127 for 5 in the 14th over. Mumbai's bowlers did well without the help of Jasprit Bumrah and Jofra Archer, their main quick bowlers.
Heinrich Klaasen, Jansen, and Sundar hit some big shots, but could not finish the job. The last over started with Sunrisers needing 20 runs to win, and Arjun Tendulkar had the ball. He bowled a sequence of wide yorkers, which resulted in two wickets and just five runs scored. Mumbai Indians won the match by 14 runs.
Arjun Tendulkar MI Win 3rd Consecutive Match Mumbai Indians vs Sunrisers Hyderabad
The prime architects of Mumbai's win were Cameron Green and Tilak Varma, who scored 64 and 37 runs respectively, and added 56 runs in 28 balls. Green also took one wicket for 29 runs in his four overs. Jansen, Klaasen, and Behrendorff took two wickets each.
To sum up, Mumbai Indians have won their third consecutive match in the Indian Premier League by defeating Sunrisers Hyderabad by 14 runs in a thrilling encounter.
The middle order of Mumbai Indians, led by Cameron Green and Tilak Varma, put up a challenging total of 192 runs on a sluggish pitch, and the bowlers defended the target successfully, restricting the Sunrisers Hyderabad to 178 runs. This win has taken Mumbai Indians two spots up to sixth place in the points table, giving them a much-needed boost in their campaign to qualify for the playoffs.
On the other hand, Sunrisers Hyderabad continues to struggle, remaining one place off the bottom of the table. It was a great game of cricket, and fans can look forward to more exciting matches in the IPL 2023 season.
Arjun Tendulkar MI Win 3rd Consecutive Match Mumbai Indians vs Sunrisers Hyderabad