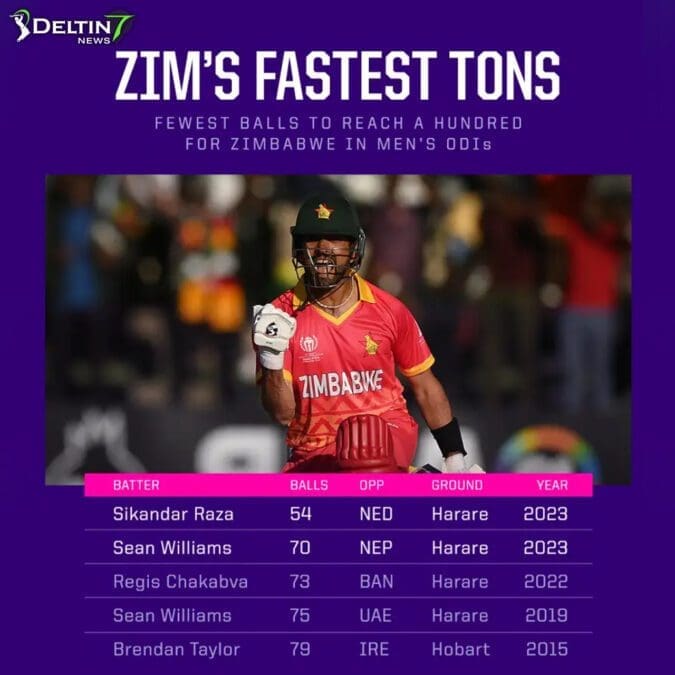 Sikandar Raza Zimbabwe's Fastest ODI Century in Crushing Win over Netherlands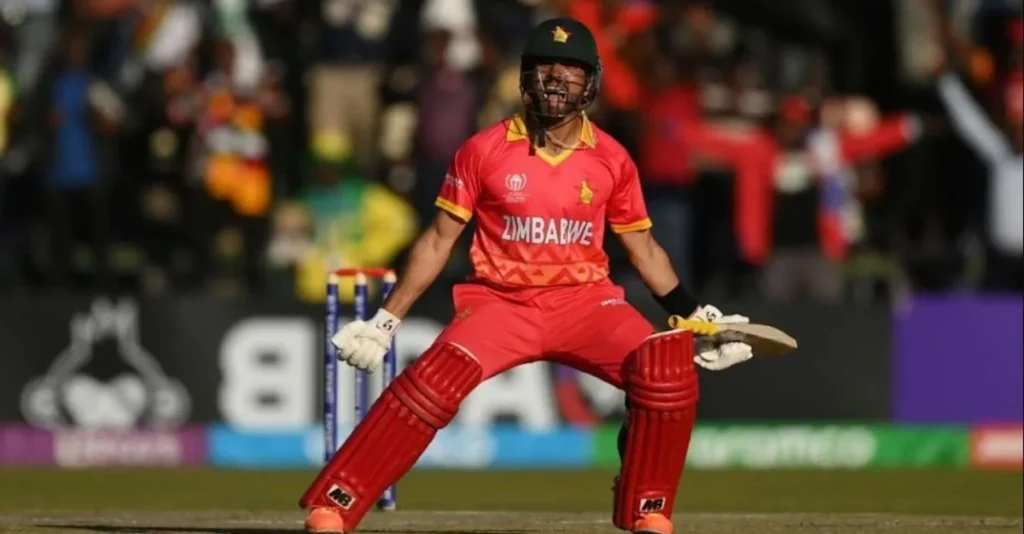 In a thrilling match between Zimbabwe and Netherlands, Sikandar Raza showcased his exceptional batting skills by smashing Zimbabwe's fastest One Day International (ODI) century. The match, held at the Harare Sports Club, witnessed Raza's magnificent knock of 102 not out off just 54 balls, leading Zimbabwe to a resounding six-wicket victory over their opponents. Alongside Raza, Sean Williams played a crucial role in the victory with his well-crafted innings of 91 runs off 58 deliveries.
Raza's Blistering Century
As the Zimbabwean innings commenced, Raza displayed his all-round prowess by first shining with the ball. He claimed four wickets, playing a significant role in restricting the Netherlands to a total of 315 runs. Raza's exceptional bowling performance set the stage for his explosive batting display later in the match.
Chasing the target, Zimbabwe faced a potentially tricky situation, but Raza's explosive batting turned the game in their favor. He unleashed a barrage of power-hitting, treating the spectators to a breathtaking spectacle. Raza's century, achieved in just 54 balls, became the fastest ever ODI hundred by a Zimbabwean player. His unbeaten innings comprised six boundaries and eight towering sixes, three of which were hit consecutively in a brutal assault on Shariz Ahmad in the 39th over. Raza's authoritative knock left the audience wondering if any target set by the Netherlands would have been sufficient to thwart his dominance.
Sean Williams' Contribution
While Raza's century rightfully earned him the spotlight, Sean Williams played a crucial supporting role in Zimbabwe's triumph. Williams demonstrated exceptional game management skills during his innings. He entered the crease in the 14th over and took some time to settle before launching an onslaught in the middle overs. Williams plundered 48 runs between the 17th and 21st overs, shifting the momentum in Zimbabwe's favor. As Raza joined him in the 25th over, Williams assumed a more reserved role, allowing Raza to take charge and dominate the opposition.
Netherlands' Brave Effort
Despite facing a challenging target, the Netherlands batsmen displayed commendable resilience and determination throughout their innings. Max O'Dowd and Vikramjit Singh formed a formidable opening partnership, amassing 120 runs. Following O'Dowd's dismissal, Vikramjit continued his stellar performance, partnering with captain Scott Edwards to add 96 runs to the scoreboard. Edwards showcased his batting prowess, contributing 83 crucial runs to the team's total.
However, Raza's skillful variations and extensive experience proved too much for the Netherlands' batting lineup. He swiftly dismantled the opposition, breaking key partnerships and preventing the Netherlands from gaining a stronghold in the match. Raza's crucial wickets included the dismissals of O'Dowd and Wesley Barresi, effectively curbing the Netherlands' momentum.
Raza's Impactful Performance
Sikandar Raza's all-round brilliance was instrumental in Zimbabwe's victory. His four-wicket haul restricted the Netherlands to a par total on what he described as a challenging pitch. Raza's ability to deceive the batsmen with his variations and precision played a vital role in stifling the opposition's scoring rate. With the bat, Raza's explosive innings of 102 not out showcased his power-hitting abilities and established a new record for Zimbabwe in ODI cricket.
Zimbabwe's Impressive Form
With this win, Zimbabwe extended their winning streak, securing their second consecutive victory in the tournament. The team's dominant performance against the Netherlands reaffirmed their potential and raised hopes for a successful campaign. The combination of Raza's heroics, Williams' game management, and the overall team effort demonstrated Zimbabwe's formidable skills and their determination to excel on the international stage.
Looking Ahead
Zimbabwe's resounding victory over the Netherlands not only provided them with valuable points in the ICC Cricket World Cup Qualifier but also showcased their depth and talent. The team's upcoming matches will undoubtedly be highly anticipated, as fans eagerly await more spectacular performances from Sikandar Raza, Sean Williams, and the rest of the Zimbabwean squad. As the tournament progresses, the cricketing world will closely follow Zimbabwe's journey, curious to witness their continued success and potential qualification for the prestigious ICC Cricket World Cup.