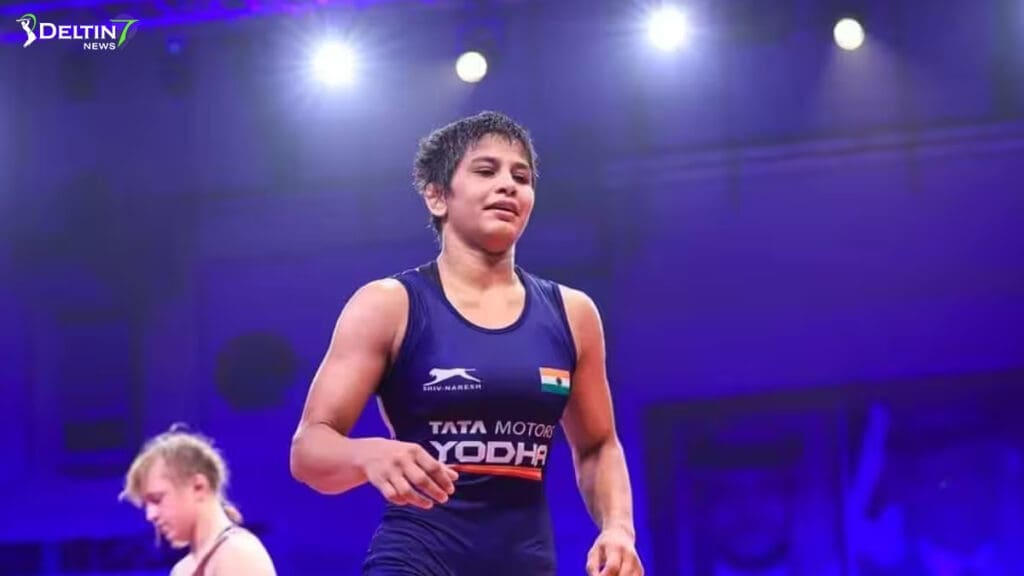 Antim Panghal overcomes heartache to win bronze at the Wrestling Worlds
In the world of sports, heartbreaking experiences frequently come before the delicious taste of victory. The 19-year-old Indian wrestler from Hisar, Antim Panghal, recently went through this emotional roller coaster at the World Wrestling Championships in Belgrade. Panghal, who had never previously experienced a loss at the Worlds, suffered a crushing loss in the semifinals, leaving her inconsolable and in tears. She refused to let that setback limit her journey, though. She instead bounced back with relentless tenacity to win a deserving bronze medal and guarantee a spot in the Paris Olympics.
Nevertheless, Panghal won her first senior World Championship bronze medal in Belgrade despite never fully healing from that grief. To do this, she battled Swedish wrestler Jonna Malmgren for a tight first period before pushing the two-time European champion to the limit in the second. She won 16-6 and earned a spot in the Paris Olympics.
A Story of Resistance
Antim Panghal's narrative is one of tenacity, commitment, and the unrelenting pursuit of perfection. Panghal's wrestling career has been characterized by several difficulties, notably the difficult process of losing weight before matches. Before the World Championships had started, her instructors indicated that this frequent weight reduction had left her body with minor problems. Panghal persevered despite these obstacles and showed undying dedication to her sport.
A Holder of Two Titles
Panghal had already established herself as a formidable young wrestler before the World Championships. She had won two U20 World Championships, demonstrating her skill on the mat. Her accomplishments not only demonstrated her talent, but they also aroused anticipations for how she would perform at the senior level.
A Courageous Choice
Panghal bravely decided to compete in both the World Championships and the Asian Games, which is an uncommon accomplishment for Indian wrestlers. Her goal at the World Championships was to win a medal, which would secure her entry into the 53 kg weight division of the Paris Olympics. She knew it would be a risky bet, but she was willing to take it in order to achieve her Olympic goals.
The roller coaster match
Antim Panghal had a strong start in the bronze medal match against Jonna Malmgren of Sweden. She quickly took the lead after securing a point with a step-out. When she performed a breathtaking four-point move that turned her opponent inside out and pinned her to the ground, her extraordinary power and technique were on full show. Panghal appeared to be headed for an easy victory.
Malmgren then attempted a double-leg takedown, which abruptly changed the course of the fight. Panghal was put in a dangerous situation as her adversary tried to pin her by trapping her arms. Her chances of winning a bronze medal may have been destroyed at that particular time. Panghal almost avoided falling but gave up two points in the process as she was able to free her right arm from the tight grasp.
The Tipping Point
The match's turning point occurred when Malmgren grabbed Panghal's leg for another takedown. A stunning series of reversals and countermeasures then occurred. With both wrestlers tied at 6 points at the end of the first period, the stage was set for a close contest.
Grabbing the Chance
Panghal was more at ease throughout the second period. She increased her advantage to 12-6 with two takedowns and a rollover. She displayed her counter-wrestling talents with poise and focus, blocking Malmgren's attempts to take her down and quickly using them to her advantage. Panghal prevailed with a final score of 16-6 as the timer approached zero.
Tears of Victory
Antim Panghal sobbed after the contest as she lay on the ground. It was a sight she had seen before, one that brought back painful memories for her from the previous day. However, these were happy tears this time. Panghal realized as she lifted her palm in triumph that she had not only won a bronze medal, but also a trip to the Olympics in Paris.
The Uncompleted Journey
Panghal was really happy and relieved to win the bronze medal, but it was clear that she saw it as a silver lost rather than a bronze earned. Her unwavering passion and unrelenting quest for perfection exemplify what it means to be a true champion. In senior wrestling, Antim Panghal's career has only just begun, but her tenacity implies that she is destined for much greater heights.
Antim Panghal has demonstrated that she has the traits of a true champion in a sport that necessitates unshakable focus and resiliency. Her wild experience at the World Championships is an uplifting narrative of triumph over hardship, one that will definitely motivate the upcoming generation of wrestlers in India and everywhere. Panghal's journey promises to be a captivating tale of courage, ambition, and the chase of Olympic success as she looks ahead to the Paris Olympics.