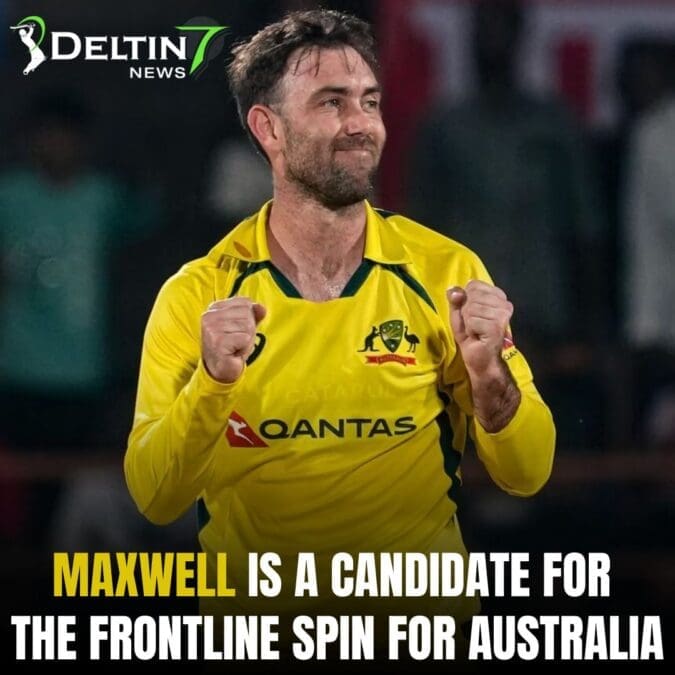 Maxwell is a candidate for the frontline spin for Australia
Although there is no set date for Head's return, it is anticipated that he won't be ready until at least the middle of the World Cup group stage.
As Australia decided not to replace the injured Ashton Agar like-for-like, Glenn Maxwell has been tipped to fill the position of a frontline spinner at the World Cup. Instead, they substituted Marnus Labuschagne, who will serve as batting cover while Travis Head heals from his fractured hand.
Given that Steven Smith hardly bowls any longer, and Labuschagne's leg spin has gotten worse in recent years, Maxwell and Adam Zampa are Australia's only two legitimate spin options among their 14 healthy players. Should Head be able to recuperate and bowl, his offspin would be a useful alternative.
Head's return has no set date as of yet, although he isn't anticipated to be ready until at least halfway through the group stage.
National selector George Bailey thinks Maxwell's bowling shouldn't be underrated despite the fact that he averages 47.71 in ODIs and had a career-high 4 for 40 against India in the last ODI in Rajkot.
Maxi being labeled as a non-specialist spinner is unjust, in Bailey's opinion, he stated. He has a solid track record with white-ball spinning, and you might definitely consider him a frontline option. We definitely think that our first-choice XI contains two frontline spinners.
When the team is restricted to 15 players, there are sacrifices that you must consider, and you must decide which direction you want to take a risk. That was the only factor we had to take into account. We have ample of choices for quicks and backup all-rounders, and we definitely believe that Zamps and Maxi can do a great job for us as the main spinners.
Maxwell's performance in Rajkot was just his second ODI appearance after breaking his leg severely last year, and after pulling up with an ankle injury on Australia's first day of training in South Africa last month, there have been questions about how he would handle a demanding World Cup schedule.
Bailey did mention that Maxwell would occasionally be given a respite from the more demanding fielding positions he has often held, but he also appreciated the preparation Maxwell has put in for the competition.
"Glenn has been so dynamic throughout his one-day career, not just in terms of his bat and ball skills but also in terms of the positions he chooses to play in the field. There has so been a heavy workload there, according to Bailey. "Glenn might have some games where he doesn't have to go to the heated locations, or he might have some games where we can locate some quieter spots for him in the field. And not only this tournament. We'll consider it as we go from game to game.
He has put a lot of effort into attempting to restore some strength and functioning to that leg since planning with Glenn how the build-up to this competition would look. Crossing fingers that's
Bailey acknowledged that there was still some uncertainty around Head's prospective comeback, but the possibility of what he may offer later in the competition was too great to pass up.
Trav is a pretty important player for us, but we were mindful of the potential that if there is a setback at some time, it would make it incredibly tough for him. "As the bone begins to heal, we'll be able to see how he's recovering, but we'll also be able to see how we're doing in the competition," the doctor said. Hopefully, they'll get married eventually.
Having not played against South Africa or India, Mitchell Marsh will be free to bowl at the start of the World Cup and could see action in the warm-up matches. He was supposed to run in Rajkot, but after scoring 96 in oppressive heat, it was decided to take a cautious approach.
It would have been good for Mitch to receive a bowl the other night, but Bailey noted that he was a little exhausted after hitting. In the background, he has been bowling a lot.
Bailey acknowledged that Australia's preparation for the World Cup had not been the best given their extensive injury list and busy schedule, which included eight ODIs in South Africa and India.
This close to a World Cup, we've certainly had more moving pieces and a lot of cricket than we'd want, he added. The scheduling of some of the one-day series we've had over the past number of years has made them somewhat difficult because they frequently follow significant Test series.
"One way to look at it is that we haven't had many opportunities to assemble what you would call our first-choice XI. The beautiful thing about it is that it has also given those guys who have pushed their way into our starting XI some opportunity, so that's been terrific.
Bailey will continue to make jokes about the need for reinforcements during the two exhibition games, especially the first one against the Netherlands on Saturday.
"Coming off this India series, it will be a bit of an all-hands-on-deck one. There's a lot more cricket to be played and a few aching bodies," he remarked. "If you're an Australian in Kerala and you'd like to play a game of cricket, feel free to wander down tomorrow."