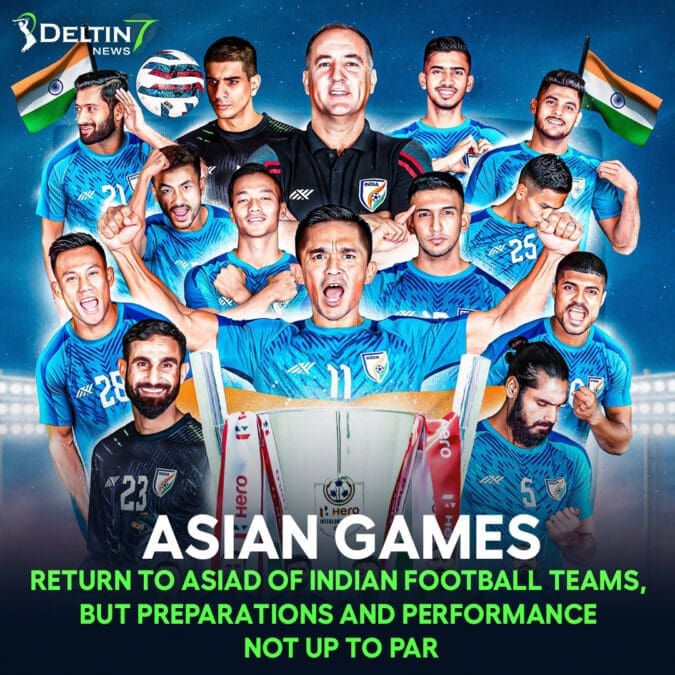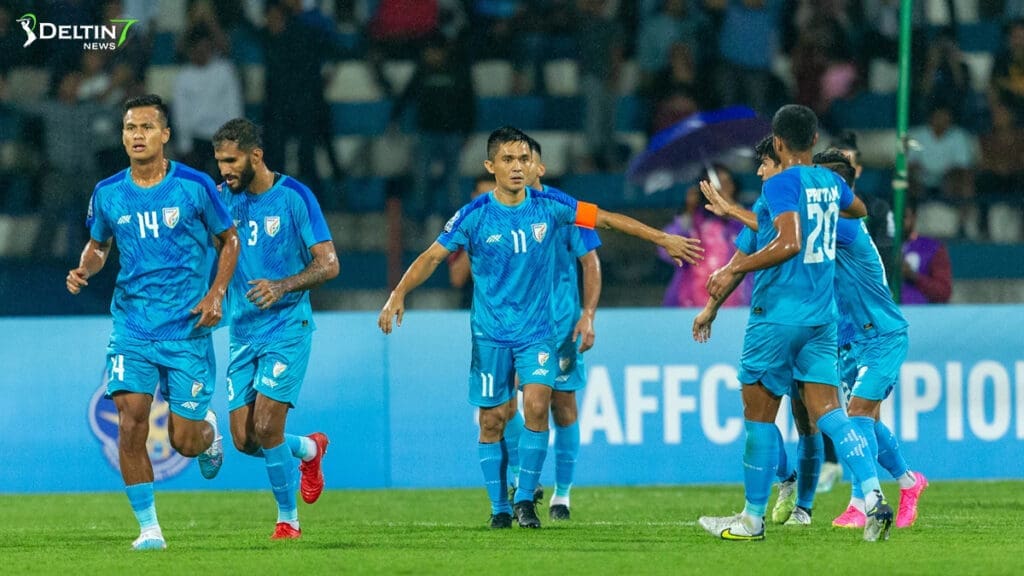 Return to Asiad of Indian football teams, but preparations and performance not up to par
The Indian football teams will compete in the Asian Games again this year after not competing in the continental competition in 2018. However, there has been drama in the lead-up to the Games.
The men's and women's teams had first been denied entry by the sports ministry due to their rankings outside of the top 8 in Asia, but after repeated requests from AIFF president Kalyan Chaubey, the ministry eventually granted permission for them to travel for the competition.
Tournament format
The men are in a group with the hosts China, Bangladesh, and Myanmar that consists of four teams. Out of the six groups, the top two teams in each and the four best third-place teams go to the Round of 16. There are only three players beyond the permissible age limit in the squad for the men's competition, which is likewise limited to under-23 athletes.
In a three-team group with Chinese Taipei and Thailand, the ladies are included. To advance to the quarterfinals, they must either win their group or place among the top three second-place teams out of a possible five. There are no age limitations for the women's sport, unlike the men's, and this year, India sent its best senior team to Hangzhou.
How likely is it for India?
Men
After a week of turbulent back-and-forth, a squad has been formed. It is much different from the squad that was first announced last month, but there is at least a glimmer of balance in it thanks to last-minute deals that allowed Sandesh Jhingan to go as well as Chinglensana Singh and Lalchungnunga to be included. India's U23 team is very different from the one that competed in China's U23 victory earlier this month in a dramatic match at Dalian in the AFC U23 qualifiers.
Sunil Chhetri, the team captain, Jhingan, and Chinglensana are the three players who are allowed to be overage. India is well-served going forward with some dynamic wingers like Rahul KP and Rohit Danu in the roster, in addition to players like Aniket Jadhav and Gurkirat Singh, while Jhingan and Chinglensana bring steel to the defense. However, the midfield is a problem because none of the guys called up have considerable experience or game time at the highest level.
Igor Stimac, who is traveling to Hangzhou with U23 coach Clifford Miranda, should set a minimum goal of getting India into the Round of 16 despite the problems and struggles the team has faced leading up to the Asian Games. India will fancy their chances against both Bangladesh and Myanmar.
India will face a difficult test in the Round of 16 against the losers of Group B, which comprises Iran, Saudi Arabia, Vietnam, and Mongolia, if they do place second in the group, as is expected to happen before the competition.
Stimac stressed in a press conference before his journey to China how difficult the situation is for India:
Regarding the team's current situation and morale…
"Time is limited. I cannot expect more in such a position, therefore we must concentrate on what we can do in the next two days until kickoff – to do everything possible within our ability, to open the tournament with a good fight.
Which camp and what morale? The players will arrive at the airport today between 5:00 and 6:00 p.m. After meeting there, we fly to Hong Kong at 10 p.m. We'll arrive in Hong Kong at 7 a.m. tomorrow and wait there for another aircraft to Guangzhou for 5 to 6 hours. There will be no practice before the game when [we] arrive in the afternoon at around 5 o'clock. To allow the players to rest when we arrive in China, we need to make sure that any necessary discussions with them are conducted at the airport and throughout the journey.
"Preparing for huge games over a two-day period never worked out well for us…When there is a long camp versus a short camp, it is clear how India differs.
On anticipations…
"The reasons are fully known, so I have absolutely no need to ask the players for outcomes. I'm going to challenge the players to play to the best of their abilities, and I'll do my best to support them in doing so.
Regarding the new members of the team…
Many of them will be people I've never met before, so I need to learn specific information that will help me decide how much they can participate and how well they understand the game.
They are in a fantastic position… demonstrating their right to greater chances in ISL… and to bring attention to themselves.
"Generally speaking, Indian players are of similar caliber… If certain factors prevent us from fielding the best team possible, I would prefer to choose all I-League players and ask to practice with them for two months in order to get ready for the Asian Games.
Regarding the adversary and his setup…
To be honest, I'm not thinking about China. Myanmar and Bangladesh come to mind. So don't be shocked if I bench Sandesh and Sunil for the opening match.
"We need to be very shrewd. Do we invest all of our energy (there won't be much left after the first game) or do we skip that and prepare as best we can for the next two games, which could advance us to the elimination rounds?"
Regarding Sunil Chhetri…
Sunil didn't participate in the team's entire preseason. And he has only recently become involved in the training sessions. Therefore, I won't risk the safety of losing Sunil Chetri before World Cup qualifying in jeopardy of our entire nation.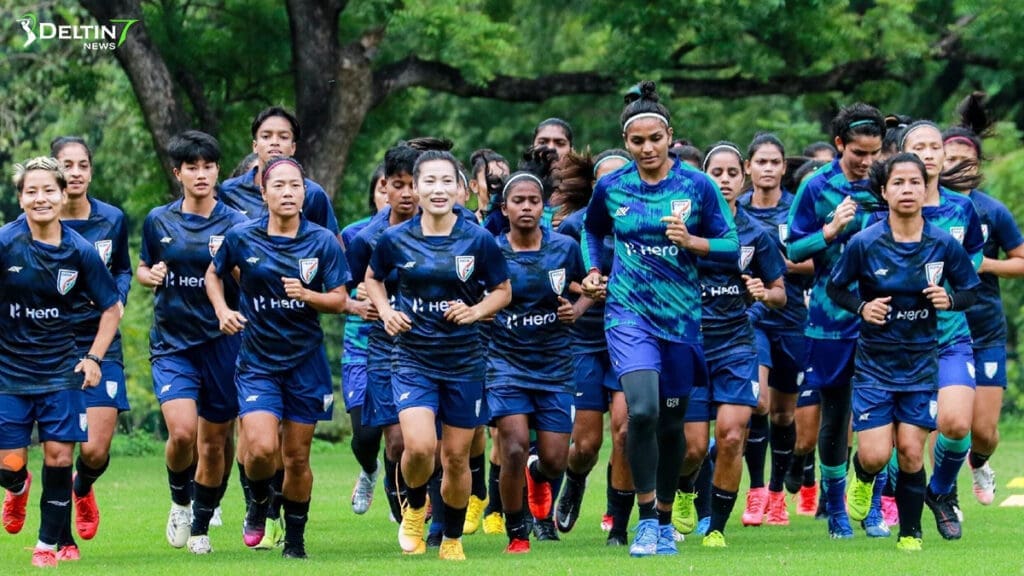 Women
Chinese Taipei and Thailand are both placed higher than them than India, which is ranked 61. These two nations will compete against India in the group stage. Even though India enters the group as the clear underdog, they will still be confident in their chances because the squad includes players like Manisha Kalyan and Jyoti Chauhan, who have had good periods in Europe.
Although the team has a calm appearance, recent performances have been far from remarkable. India only managed two victories this year, both over Kyrgyzstan in the first round of the Olympic qualifications, and lost the SAFF Championship semifinal to Nepal last year after falling to Bangladesh in the group round.
The team's head coach, Thomas Dennerby, was reinstated, and this will be a challenging position for the Swede to return to.
Although India has little chance of making it out of the group, the format is such that they might advance to the quarterfinals with just one successful outcome. Getting that unexpected victory will boost the team's performance in this competition and ahead of the second phase of Olympic qualifying, which will take place next month.
Equipment Men
India vs. China, September 19, 5 p.m.
1:30 p.m. on September 21: India vs. Bangladesh.
India vs. Myanmar, September 24, 5 p.m.
On September 27 or 28, the Round of 16 matches will be played, and on October 1, 4, and 7, respectively, the quarterfinals, semifinals, and finals will follow.
Women
Chinese Taipei vs. India, September 21, 5 p.m.
Thailand vs. India, September 24, 5 p.m.
On September 30, October 3, and October 6, the quarterfinals, semifinals, and championship match will all take place.