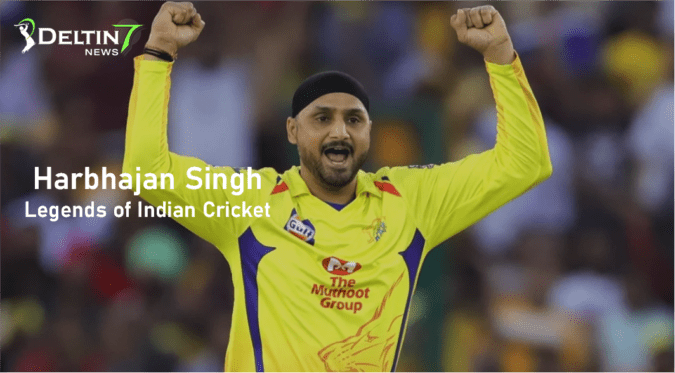 Harbhajan Singh | Legends of Indian Cricket
Harbhajan Singh will go down as the greatest off-spinner that Indian Cricket has ever produced. Harbhajan had a certain flair to his bowling. His off-spin bowling was wonderfully complemented by his ability to bowl a doosra (a ball that pitches and turns away from the right hander).
Harbhajan was present at the greatest moments of Indian Cricket. His key performances led India to winning the T20 and One Day World Cups. Harbhajan had a graceful and well-respected career that saw many glorious moments.
Early Life of Harbhajan Singh | Legends of Indian Cricket:
Harbhajan Singh was raised by Sikhs. He is the lone male child of ball bearing and valve manufacturer turned Sikh Freedom Fighter Sardar Sardev Singh Plaha. Harbhajan was poised to take over the family business with five sisters to look forward to, but his father advised him to concentrate on cricket and represent India.
Charanjit Singh Bhullar first instructed Harbhajan as a batter, but following his mentor's tragic departure, he turned to spin bowling under the direction of Davinder Arora. Arora gives the credit of Harbhajan's success to his work ethic that included a three-hour morning routine and an afternoon workout that lasted from three till twilight.
Domestic Career| Legends of Indian Cricket:
During the 1997–98 Ranji Trophy season, Harbhajan made his first-class cricket debut against Services in late 1997. He recorded a total of 3/35 in an innings victory, but the following week he was demoted to the Under-19s. Then, in two matches, he scored 5/75 and 7/44, which earned him a recall to the senior team.
In the following two matches for Punjab, he scored a total of 7/123, which earned him a spot on the North Zone roster for the Duleep Trophy.
When Harbhajan represented India at the Under-19 World Cup in January 1998, his season was cut short. In his six games, he took eight wickets at an average of 24.75, with his best being 3/5 against Kenya.
International Career| Legends of Indian Cricket:
Early in 1998, Singh played in his first Test and One Day International (ODI). Investigations about the legitimacy of his bowling action, as well as a number of disciplinary problems, had an impact on his career.
However, Harbhajan's career was revived in 2001 when Indian captain Sourav Ganguly appealed for his reinstatement in the team due to the injury to star leg spinner Anil Kumble; he grabbed 32 wickets in the next series and became the first Indian bowler ever to achieve a hat-trick in Test cricket.
International Appearances and records| Legends of Indian Cricket:
Harbhajan Singh represented India in a total of 103 Test Matches. In those 103 tests, Harbhajan picked up 417 wickets at a bowling average of 32.46.
Similarly, Harbhajan played for India in 236 ODIs and picked up 269 wickets at a bowling average of 33.35. In 28 T20Is, he picked up 25 wickets at an average of 25.32
Though Harbhajan was a specialist spinner, he also has two test hundreds to his name, with a career best of 115.
World T20 Title| Legends of Indian Cricket:
Harbhajan Singh was an important member of the Indian Team that won the 2007 ICC World T20. Harbhajan's experience and bowling proved crucial to India's title win.
ICC Cricket World Cup 2011| Legends of Indian Cricket:
The biggest moment of Harbhajan Signh's career was the World Cup win in 2011. India won the ICC Cricket World Cup 2011, thanks to an exemplary team effort by the Indian side. Harbhajan Singh was a crucial contributor to India's win as he led the spin bowling during the tournament.
Retirement of Harbhajan Singh:
After playing IPL for several years, Harbhajan retired from all forms of Cricket in 2021.
Read more: Cricket legends of India All Time