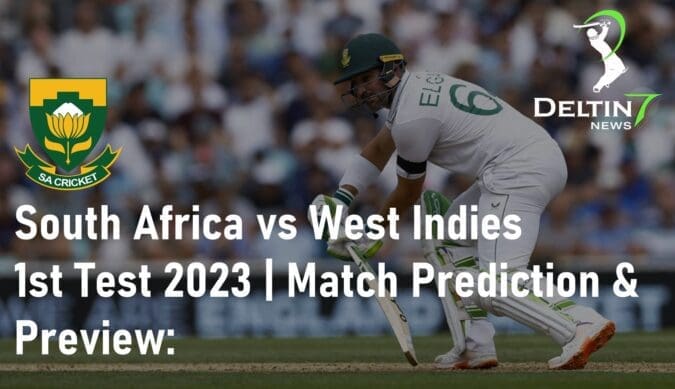 South Africa vs West Indies 1st Test Match 2023 – Match Prediction: As the cricket world turns its attention towards the South Africa versus West Indies Test series, a plethora of changes have already taken place in the South African cricket scene. The last few months have seen a series of ups and downs, from the success of South Africa's premium product, SA20, to the team's early exit from the T20 World Cup.
To add to that, the women's senior T20 World Cup, which South Africa hosted, saw them halted in the final just two days before the start of the men's Test series against West Indies.
However, this Test match against West Indies could provide the ideal, pressure-free start for the new South African Test captain, Temba Bavuma. It has been as much of a circus for him personally as it has been for his side. After being initially snubbed at the SA20 auction, it was under Bavuma's captaincy that South Africa exited early from the T20 World Cup.
Despite this, his strike rate of 114.64 while scoring 180 runs – including a century – in three ODIs against England saw him finally attract a deal at the SA20. Bavuma will be South Africa's fourth Test captain since 2020 and will lead a revamped squad and coaching set-up.
South Africa vs West Indies 1st Test Match 2023 | Match Prediction & Preview:
South Africa's support staff for this Test series stands at 12, which is more than the number of players who will feature in the team. In contrast, West Indies have landed in South Africa on the back of a 1-0 series win in Zimbabwe, but they have an interim coach, and only five of their squad of 15 on this tour have played a Test in South Africa before.
The slow, turning track of Bulawayo will be replaced by the spicier combination of pace and bounce in Centurion to begin with, and South Africa are likely to field an all-pace attack. Even Keshav Maharaj might not find a place. Aiden Markram is set to partner Dean Elgar at the top, while right-arm quick Gerald Coetzee might make his debut.
Elgar, the South African Test captain, averages a lowly 15.25 in his last 12 Test innings. All of those came while he was captain, a phase he didn't particularly seem to enjoy with the bat: he averaged only 28.40 since being named permanent Test captain in March 2021, without a single century.
While it might be too soon to let him go, he will be wary that he is just six months away from turning 36, as he will be by the selection of Tony de Zorzi and the return of Aiden Markram into the Test fold.
South Africa vs West Indies 1st Test Match 2023 | Match Prediction & Preview:
Kemar Roach has only played a single Test in South Africa in a 14-year international career. While West Indies were crushed by an innings and 220 runs then, an injured ankle had ruled him out of the match – and the rest of the Test series – after bowling barely 16 overs on the first day. But since 2015, Roach has grabbed 141 Test wickets at 28.36. He has the pace and experience to deliver for West Indies on a challenging tour.
The South Africans' party in Cape Town might not have ended the way they would have liked, and even before the public hardly gets any time to put their women's team's World Cup final loss behind, the men bring the hard grind and labour of Test cricket, which the country had last seen almost a year back.
Despite not being in the race for the WTC final anymore, this Test series could be a crucial opportunity for South Africa to begin their resurgence in the format under the new leadership of Bavuma.
South Africa vs West Indies 1st Test Match 2023 Match Prediction:
With a revamped squad and a new captain at the helm, South Africa look poised to come out on top in their Test series against West Indies.

South Africa vs West Indies 1st Test Match 2023 | Match Prediction & Preview: