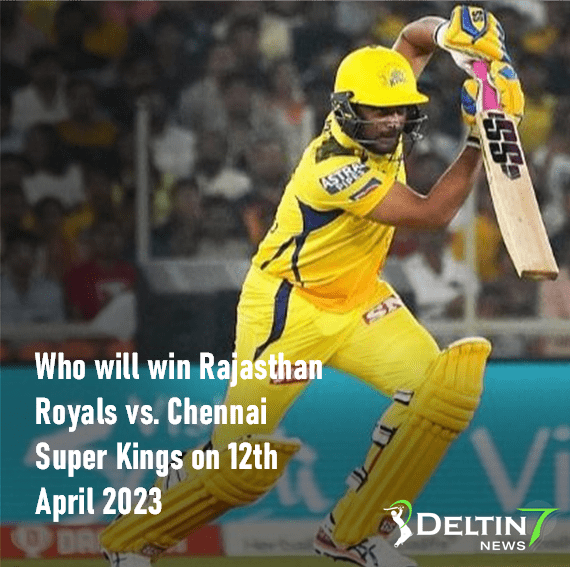 IPL 2023 RR vs CSK Prediction | Who will win on 12th April
The excitement of the Indian Premier League tournament is at its peak. Fans are excited to watch new and exciting encounters between the tournament squads in IPL 2023. Now you will see another exciting meeting of Rajasthan Royals with Chennai Super Kings on April 12, 2023. Both teams are the strongest competitors in Championship Trophy 2023.
In their last match, Rajasthan Royals handed over a big defeat to Delhi Capitals. Rajasthan Royals clashed with Delhi Capitals in their previous game at Barsapara Cricket Stadium. Rajasthan dominated Delhi Capitals by 57 runs in this match. Jos Buttler, Trent Boult, Yuzvendra Chahal, and Yashasvi Jaiswal were the critical players for Rajasthan Royals against Delhi Capitals.
After winning the toss, Delhi Capitals decided to field first. Taking advantage of the first innings, Rajasthan Royals set up a massive score of 205 runs in twenty overs. In the second innings, Trent Boult, Jason Holder, and KM Asif created trouble for Delhi batters by knocking them out of the stadium. The skipper of Rajasthan Royals, Sanju Samson, and Yuzvendra Chahal, are the leading players for the squad. Both batters can contribute a big score for their team against Chennai Super Kings on April 12, 2023.
In the bowling department, Trent Boult can cause trouble for Chennai batters, as he knocked out the impact players of the opponent squads in his previous matches in IPL 2023. The win against Delhi Capitals has boosted the confidence of Rajasthan Royals. The Royals are excited to mark another win against Chennai Super Kings in IPL 2023.
On the other hand, Chennai Super Kings is one of the top squads of the Indian Premier League season 2023. Ravindra Jadeja supported the bowling department by knocking out three Mumbai batters. Similarly, Ajinkya Rahane marked a half-century against Mumbai, leading his team toward victory. In the bowling line, pace bowlers Tushar Deshpande and Mitchell Santner knocked out one Mumbai batter each.
In the previous IPL record, you can see both squads have done a great job in the batting and bowling line. Rajasthan Royals vs. Chennai Super Kings will be an exciting clash of IPL 2023. Fans are impatiently waiting for the match day who will win Chennai Super Kings vs. Rajasthan Royals on April 12, 2023.
IPL 2023 RR vs CSK Prediction | Pitch Conditions and Match Details
Date: April 12, 2023
Venue: MA Chidambaram Stadium, Chennai
Rajasthan Royals will play a thrilling match against Chennai Super Kings on April 12, 2023, at MA Chidambaram Stadium in Chennai. The pitch at MA Chidambaram Stadium is generally dry and hard. The playing surface will be friendly to spin bowlers in the match between Rajasthan Royals and Chennai Super Kings. The slow and dry pitch will comfort the spinners here at Chidambaram Stadium. The batters have to keep an eye to score big runs. The playing surface is less advantageous for pace bowlers. However, the use of medium pacers can be effective.
This venue is an excellent option to chase runs. So the toss-winning team will go hunting in the match between Rajasthan Royals and Chennai Super Kings.
Fans can expect another smashing victory from Rajasthan Royals. The squad is in excellent form from the previous few matches. Although Rajasthan Royals lost a single game in the IPL 2023, they will still try to bounce back on Chennai Super Kings. Moreover, Rajasthan will be more confident after winning the previous game.
On the other hand, defeating Chennai Super Kings is a challenging task. Chennai Super Kings is the top-order team in the points table in IPL 2023. Ravindra Jadeja will play a supportive role for his team and will help them to gain an overwhelming victory against Rajasthan Royals.
IPL 2023 RR vs CSK Prediction | Who will win on 12th April
Although both squads are brilliant in their form, Rajasthan Royals have improved their performance in the current IPL season sixteen. So there is no hesitation to support Rajasthan Royals to mark another victory in the match against Chennai Super Kings.