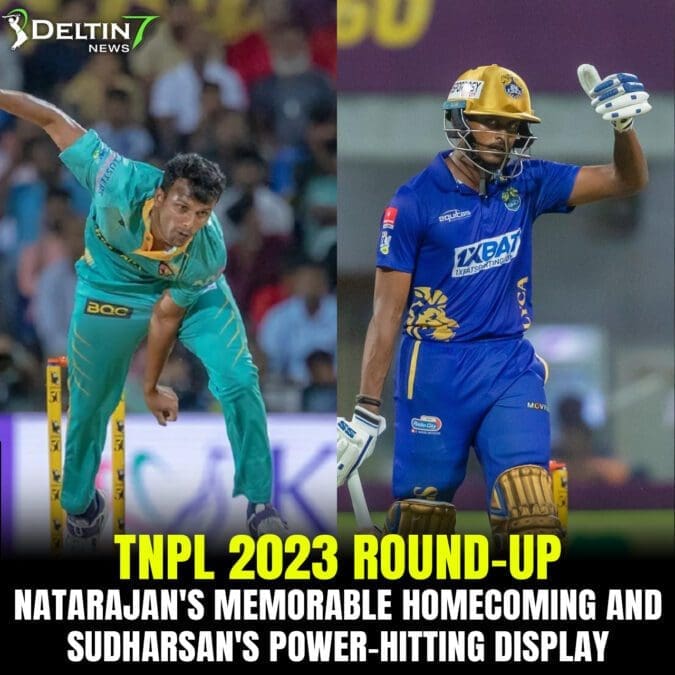 TNPL 2023 Round-Up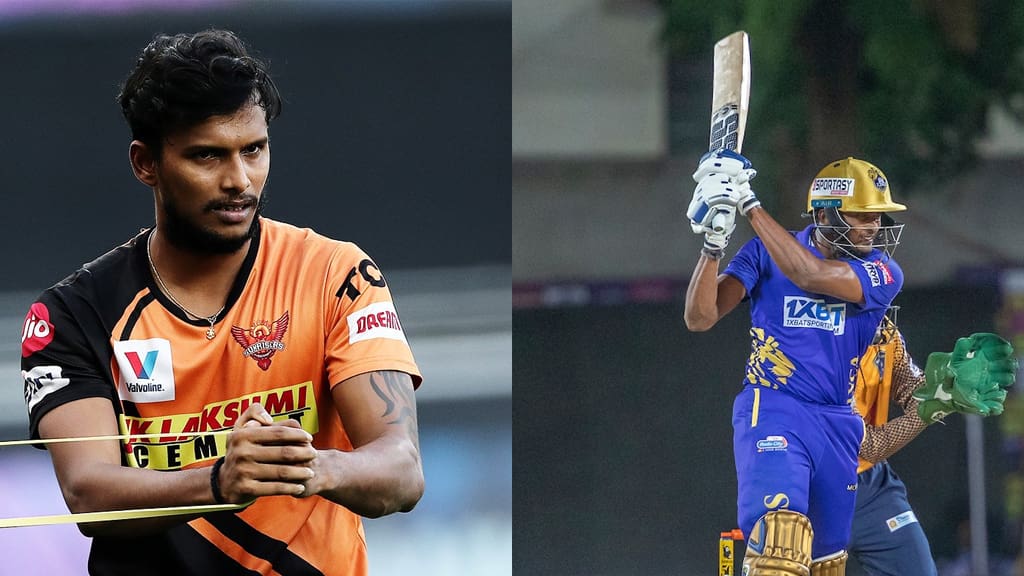 The second week of the TNPL (Tamil Nadu Premier League) 2023 has brought forth some exciting cricketing action. With teams battling it out on the field, we witnessed emotional moments, impressive performances, and intriguing strategies. In this round-up, we delve into the highlights of the week, featuring T Natarajan's emotional homecoming, Sai Sudharsan's power-hitting prowess, and Shahrukh Khan's surprising bowling skills.
Natarajan's Emotional Homecoming:
T Natarajan, renowned for his yorker-specialist skills in the Indian Premier League (IPL), made a remarkable return to his hometown of Salem. Representing the Ba11sy Trichy franchise, Natarajan showcased his bowling brilliance by swinging the new ball sharply during the powerplay. The match held special significance for him as it was the first time his parents witnessed him play in a competitive fixture. The local crowd welcomed Natarajan with thunderous cheers, akin to the reception received by Tamil Nadu cricket's biggest star, Ashwin.
Sai Sudharsan Shines with the Bat:
B Sai Sudharsan, the young talent who has been in stellar form, continued his exceptional run with the bat. His latest display of power-hitting came against the Dindigul Dragons, where he hammered the mystery spinner Varun Chakravarthy for three sixes and two fours. Sudharsan's knock of 83 off 41 balls was a key factor in Lyca Kovai Kings' victory, propelling them to the top of the points table. This was his fifth half-century in six T20 innings, highlighting his ability to perform consistently under pressure.
Sai Kishore's Pinch-Hitting Heroics:
In a surprising turn of events, R Sai Kishore of the Tiruppur Tamizhans showcased his pinch-hitting skills by scoring a 23-ball half-century, the fastest in this season's TNPL. Taking advantage of the match-up against left-arm spinners R Alexander and K Monish, Sai Kishore played a pivotal role in his team's victory. Later, he displayed his defensive spin bowling skills, returning with impressive figures of 0 for 21 in his four overs.
Ashwin's Tactical Brilliance:
Ravichandran Ashwin, known for his strategic acumen, showcased his tactical brilliance in the recent matches. Against the Chepauk Super Gillies, Ashwin's precise field placements led to a top-edged slog being intercepted at fine deep third, ultimately securing the victory for his team. In the match against the Kovai Kings, Ashwin strategically deployed a straight long-on field to counter Shahrukh Khan's power-hitting abilities. His astute reading of the conditions and implementation of unconventional fielding positions proved crucial in these encounters.
Emerging Player: M Siddharth:
M Siddharth, the left-arm fingerspinner for the Lyca Kovai Kings, has been an emerging talent in the TNPL. Despite playing in the shadow of Sai Kishore, Siddharth has stepped up this season, leading Kovai's bowling attack. Known for his fizzing arm ball, Siddharth has troubled both right-handed and left-handed batsmen. Although he has taken six wickets in five matches, it is his remarkable economy rate of 5.25 that sets him apart. Siddharth's consistent performances could attract the attention of IPL scouts, as he looks to carry his form into the domestic season.
Shahrukh Khan's Bowling Surprise:
Shahrukh Khan, primarily recognized as a power-hitter, surprised everyone with his bowling prowess. With nine wickets in 12 overs at an average of 8.00 and an economy rate of 6.00, Shahrukh emerged as one of the most successful spinners in the TNPL. Although he may not possess prodigious turn, Shahrukh's ability to extract enough spin and use the field dimensions to his advantage has troubled batsmen. His contributions, alongside Jhatavedh Subramanyan and Manimaran Siddharth, have strengthened Kovai's spin bowling department.
Conclusion:
The second week of the TNPL has been a rollercoaster ride of emotions and stellar performances. T Natarajan's homecoming, Sai Sudharsan's explosive batting, Ashwin's tactical brilliance, and the emergence of talented players like M Siddharth and Shahrukh Khan have added excitement to the tournament. As the TNPL progresses, fans eagerly await more thrilling encounters and exceptional displays of cricketing skills.