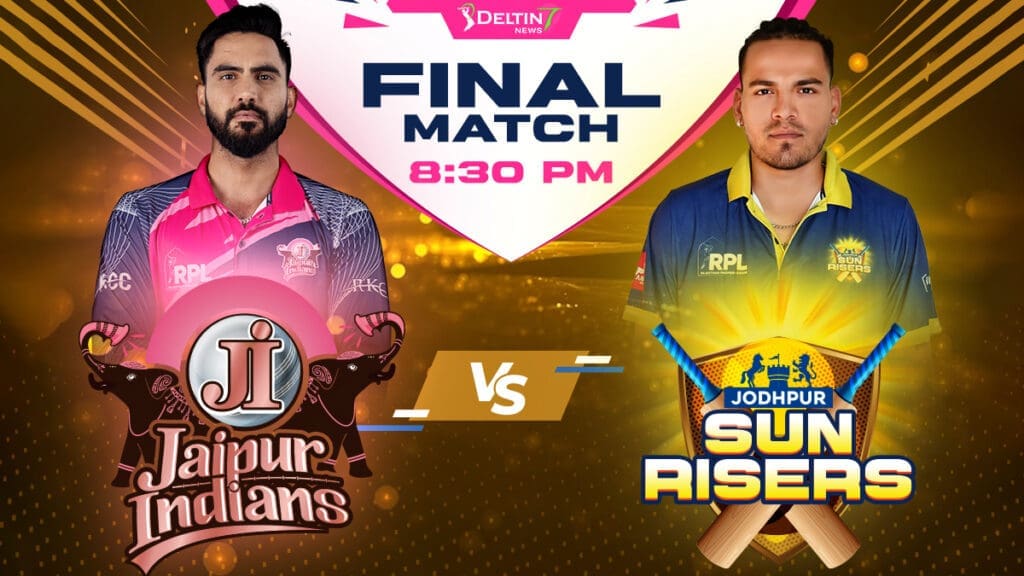 JI vs JSR Match Prediction
One of the two clubs competing in the major final of the Rajasthan Premier League will be declared champion and go down in history. We are ready for the end of nearly a month of thrilling and entertaining cricket.
Although the Jodhpur Sunrisers have been somewhat erratic in this competition, they rose to the occasion and made sure they advanced to the final. In the final, they'll want to be sure to leave no stone unturned and give it their best.
Since they have yet to lose in the Rajasthan Premier League, the Jaipur Indians have been on fire. They'll aim to win again to cap off their illustrious streak and make competition history by going unbeaten.
SQUAD PREVIEW
Jaipur Indians Preview
Up until this point in the competition, Jaipur Indians have been the side to beat. Since they have yet to lose in the competition, it will be very challenging for the other teams to defeat them. They'll aim to maintain this form and prevail against the opposition.
The toss was lost, and the Jaipur Indians were ordered to bat first. They did not have the best of days with the bat as they frequently lost wickets and it appeared like they would have difficulty reaching a significant total. Shubham Garhwal, the team's captain, played a brilliant game, scoring 64 runs off just 35 balls to help them reach a respectable total of 149 runs.
The bowling team was faced with a challenging task that required focus and composure in order to be completed. They didn't have the best of starts, but the bowlers put together an amazing comeback and triumphed by one run. In excellent form, Manav Suthar picked up 3 wickets for 19 runs.
Mukul Choudhary, Shubham Garhwal, Manav Suthar, and Ashok Sharma are important figures.
Jaipur Indians Predicted XI:
Arafat Khan, Manav Suthar, Tanmay Tiwari, Ashok Sharma, Soyed Khan, Divya Gajraj, Sumit Godara, Mukul Choudhary(w), Shubham Garhwal(c), Vishal Godara, Rohit Khichar,
Jodhpur Sunrisers Preview
The Jodhpur Sunrisers' journey in the tournament had been nothing short of spectacular, and their performance in the group stage was a testament to their cricketing prowess. Although they would have liked to maintain a bit more consistency, their outstanding run in the tournament had brought them to the grand finale, and that was all that mattered at this point.
In the final match, luck was on their side as they won the toss and decided to field first. This decision proved to be a wise one as their bowlers came out all guns blazing. Right from the outset, they struck a crucial blow by dismissing an opponent's batsman. However, the opposition managed to recover and establish a decent partnership.
But, it was the Jodhpur Sunrisers' persistent effort to take wickets at regular intervals that truly made the difference. The bowling department's remarkable teamwork restricted the opposition to a respectable total of just 162 runs. The standout performer with the ball was none other than Ravindra Khichar, who bowled a stellar spell, claiming three crucial wickets for just 20 runs. His precision and ability to break partnerships were instrumental in keeping the opposition's score in check.
With a challenging total to chase down, the batting unit of the Jodhpur Sunrisers was under immense pressure, but they displayed incredible resilience and determination. Their innings began on a shaky note, losing two early wickets. However, it was the partnership formed by the third-wicket pair that completely turned the game in their favor. This incredible duo batted sensibly and showcased an extraordinary level of skill and temperament. Their 120-run stand not only stabilized the innings but also put the Jodhpur Sunrisers in a commanding position.
The hero of the match was undoubtedly Abhijeet Tomar, whose sublime innings led the team to victory. Tomar's performance was nothing short of sensational as he chased down the target in just 18.1 overs, scoring an impressive 82 runs off 53 balls. His innings was a masterclass in stroke play and determination, and he was rightly awarded the title of the game's Most Valuable Player.
In the end, the Jodhpur Sunrisers' journey had been a rollercoaster ride filled with highs and lows, but their resilience and exceptional teamwork had brought them to this point. Now, as they prepare for the final showdown, they will be banking on their bowlers' precision, the batting unit's grit, and the brilliance of players like Abhijeet Tomar to seize the championship trophy and etch their names in the annals of cricketing history. The stage is set, and cricket fans around the world eagerly await what promises to be an enthralling final match.
Abhijeet Tomar, Bharat Sharma, Rahul Chahar, and Ravindra Khichar are important players.
Jodhpur Sunrisers Predicted XI:
Abhimanyu Lamba, Sangram Singh, Ravindra Khichar, Devesh Agarwal, Anshul Garhwal, Aniruddh Chauhan, Shubham Sharma, Dev Yadav, and Bharat Sharma(w)
THE PITCH AND THE WEATHER
Weather Conditions
On match day, there will be just a 22% chance of rain, making the temperature on the warmer side. The temperature range between the maximum and minimum will be between 34°C and 25°C.
Venue Specifics
The Sawai Mansingh Stadium in Jaipur can hold about 30,000 spectators. This field has a track record of generating spectacular matches and will undoubtedly be a great field to play on.
Toss: To Bat
The toss-winning team will choose to bat first. The squad will want to score a lot of runs under duress in the final because there is a likelihood that the wicket will spin in the second innings and make batting more challenging.
Jaipur Indians will Win this Match
Jodhpur Sunrisers, who fell in Qualifier 1 by a single run, would want to atone for their actions. They will want to play at their highest level, and after their performance in the previous game, they will be very certain that they can. The competition-unbeaten Jaipur Indians, on the other hand, will want to win this last game and create history.