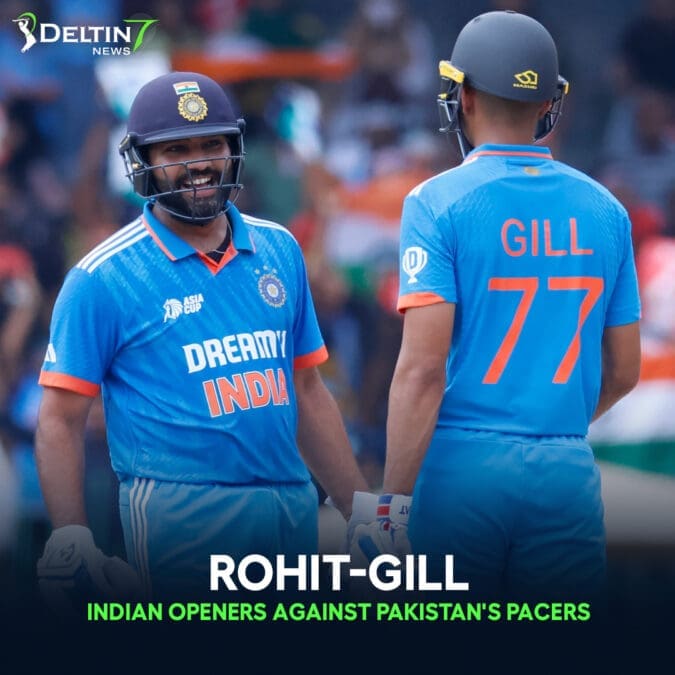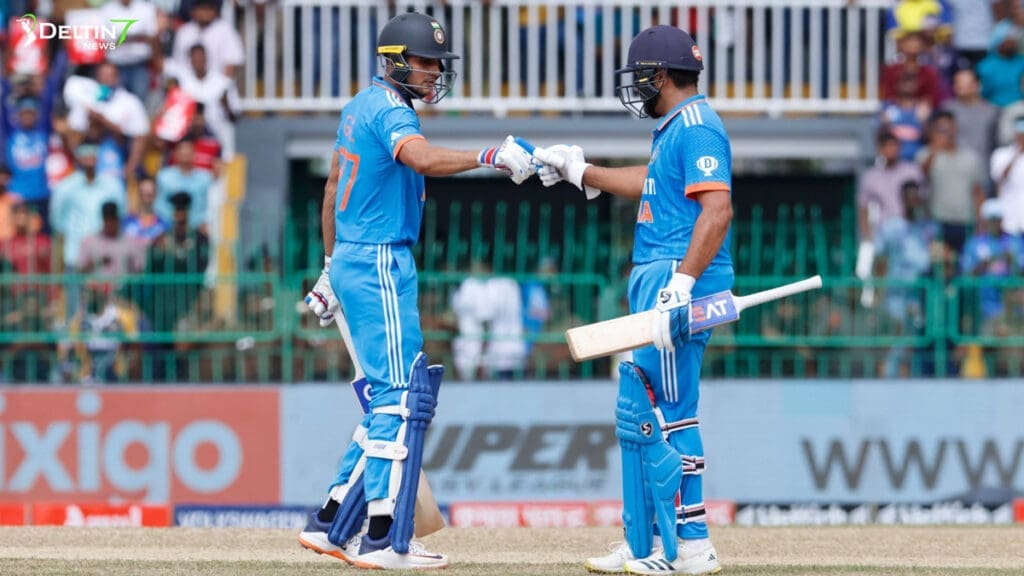 Indian openers against Pakistan's pacers
Gill's assault removed Shaheen Afridi from the attack as Indians launched a counterattack against the new ball.
No batsman had ever hit Shaheen Shah Afridi for a six in his opening over before Sunday. That would be turned into a tale by Rohit Sharma. The left-arm bowler has never allowed more than five boundaries in a game in the 42 ODIs he has played. All six of Shubman Gill's boundaries came off him in the first three overs of Afridi. India got off to the kind of start no one anticipated when they were 123/2 in 17.5 overs when their openers left, and by the time the rain stopped the match, India had reached 147 for 2 in 24.1 overs with the match scheduled to continue on Monday.
India did not even try to play with fire in this situation. In a steel cage match, Rohit and Gill entered the ring like Triple H had a plan and executed it with such authority that each shot had you wondering, "Why don't they play this often?" First, Rohit put the ball over the square-leg ropes where it belonged after Afridi pitched one that swung in late into the leg-stump. The tone was established when the Indian captain played a lofted shot off Naseem Shah in the second over.
The Indian squad has been discussing how to deal with Shaheen Shah Afridi for the previous week. In their recent matches against Pakistan, a team they don't encounter frequently, they nearly always appear to be in damage-control mode and more focused on surviving than on going for runs. They have spent hours during their weekly net sessions devising strategies to cope with him, including ordering their video analyst to record each and every delivery they made to their left-arm throwdown specialist.
Everyone around them, including Afridi, has an opinion on why they continue to struggle against left-arm pacers. Former Pakistani pacer Aaqib Javed claims that even from the other side of the border, they are missing the half-volleys and playing the bowler rather than the ball.
It is challenging to gauge from the outside how well the squad has responded to all of the hoopla about one bowler. Such build-ups frequently result in an already brittle top-order becoming much more hesitant. It might plant further seeds of uncertainty. Publicly, India's batters have rarely denigrated Afridi despite their recognition of his outstanding abilities.
When their hitters faced the left-arm throwdown specialist during a net session, head coach Rahul Dravid and batting coach Vikram Rathour were looking elsewhere. Even though they were aware of their problems, they decided against panicking.
So, few would have anticipated what would happen when Afridi vs. India Round 2 of the Asia Cup started in Colombo. Even in limited-overs situations with favorable circumstances for batting, this Indian batting lineup rarely comes out swinging when facing a difficult attack.
They are surrounded by players who are more adventurous and willing to take on bowlers, like England and Australia, who are playing ODIs the way they are supposed to be played in 2023. India sticks primarily to waiting for subpar deliveries. They still don't go on the offensive unless they have to. In order to reverse this tendency, Rohit Sharma has been vocal about the need for them to stop immediately allowing opposition onslaught to overwhelm them.
Due to the high danger involved in taking down Afridi, even teams with explosive openers opt to let him play. But there were a few messages that needed to be delivered to India.
Gill began the second over from Afridi with two consecutive leg-side boundaries, one a tickle and the other a careless flick over mid-on. You anticipated Gill would play this over after the first two boundaries. After receiving three deliveries, he would lean into a cover drive where the footwork, which had been his issue with the swinging delivery, was flawlessly coordinated. Naseem was questioning Rohit at the other end with his nipbackers and away-shapers while his fingers flicked down on the seam. Rohit even attempted to disrupt his flow at one point by running down the track to smash him over mid-off, but the seam movement prevented him from even making contact.
It appeared as though everything was back to normal. Gill, though, was not in the mood to depress his pedal. He simply strolled over to the ball's pitch on the second ball of Afridi's third over and extended his arm with ease over mid-on for his fourth boundary. Afridi now appeared uneasy. Even if he tried, India would not allow him get into the groove because he was having trouble doing so. and Gill drove him either side of the cover-fielder and Afridi's opening spell, which typically spells doom for openers, was broken up piece by piece, he switched around the wicket.
However, Naseem persisted in nagging Rohit at the other end, and after two calm overs, Pakistan introduced Faheem Ashraf. And having discovered a winning strategy against Afridi, Rohit and Gill would employ it against Naseem by picking boundaries whenever they had the opportunity. Being well aware that Pakistan's bowlers prefer to attack in the opening spell, Rohit and Gill devised individual strategies to thwart Haris Rauf's plans.
Leg-spinner Shadab Khan got things going with three long hops, to which Rohit responded with two sixes and a boundary. Full tosses and overpitch dollies were hit for a six and a four off his second over. In the third, Shadab came back, forcing Rohit to hole out at long-off. Later, after taking a slower cutter from Afridi to cover, Gill also left the field. Time will tell whether India adopts a more defensive posture or adopts an offensive one.