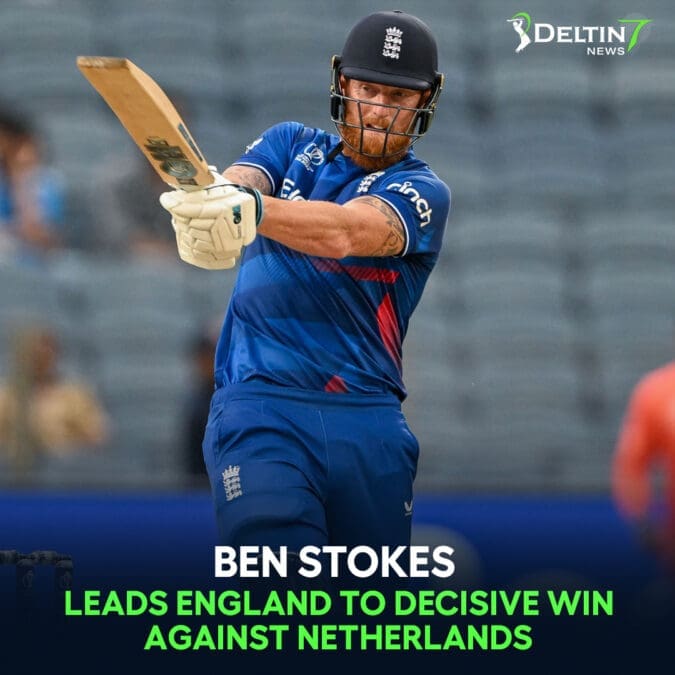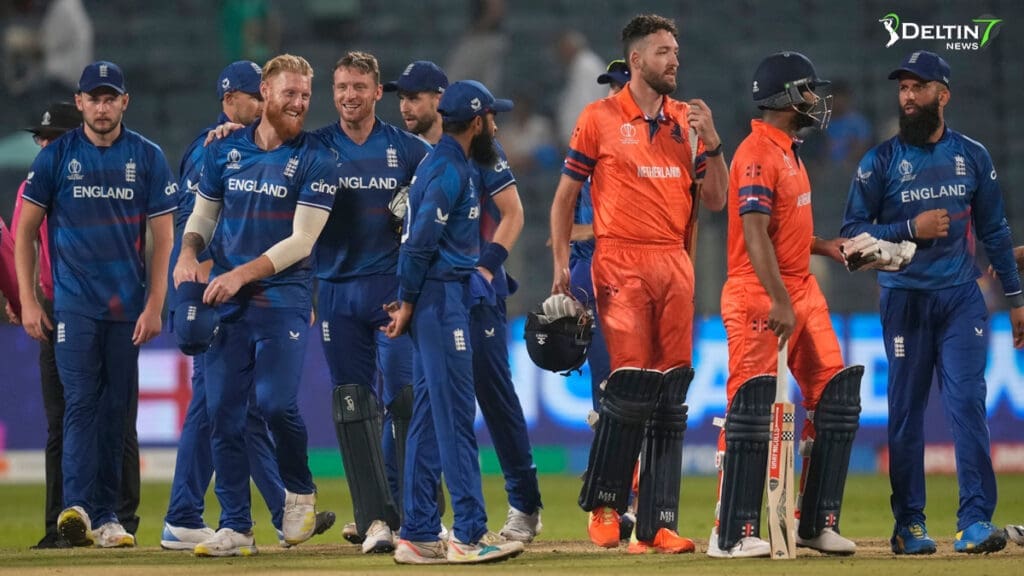 Ben Stokes Leads England to Decisive Win Against Netherlands
Joining forces with Chris Woakes, the left-hander rescues England from 192/6, leading the team to a substantial score before bowlers seal the victory.
England fans are used to seeing Stokes lead his team to decisive victories, but his impact could only go so far because he was injured when he arrived in India and could only play in their fourth game. His century against the Netherlands, which came too late to save England's hopes of making it to the semi-finals and ruin their pride despite helping them qualify for the 2025 Champions Trophy, came after innings of 5, 43, 0 and 64.
With the top eight teams advancing, England's victory by 160 runs in 12.4 overs lifted them off the bottom of the table. Their net run rate improved from a pitiful -1.504 to -0.885, moving them up to seventh position ahead of Bangladesh.
In their low-key penultimate match against the Netherlands, England's top order was once again devoured by their compulsive drive to accelerate, their all-or-nothing batting philosophy, and their restlessness to get going.
Ben Stokes was forced to control his own need to play the savior before the final Powerplay began because he knew how quickly things could go south for them. It was also a game that England had to win if they were to win the Champions Trophy in 2025 after five straight losses.
After scoring 339/9, England eventually overcame the Netherlands by 160 runs, but not before Stokes dealt the Oranje side psychological blows—his six sixes in the final eight overs demonstrated that patience might pay off. Stokes' maiden World Cup century (108 off 84) demonstrated tenacity after the reigning champions were eliminated from the running.
Stokes' presence in the England team is so valuable across formats that there have been calls in England to limit his usage and send him home from this disastrous Cup so he may have the necessary knee surgery to prepare for the Tests against India. However, Stokes, the spiritual head of English cricket, was not about to abandon his team.
Entering at an inadvertently humorous moment for everyone seeing, he saw Joe Root attempt to play his go-to reverse-scoop while getting bowled between his legs and perform an awkward chicken dance with his feet spread wide. Harry Brook leaped recklessly to deep square-leg after getting carried away going after a short ball. Furthermore, Dawid Malan, who appeared to be the most proficient as he frequently drove Logan van Beek through the covers during his 87 off 74 balls, was dismissed by Stokes after taking an imprudent single.
Then, to his growing annoyance, Moeen Ali continued finding fielders and shirked his bottom hand off a futile lofted drive, only to be caught at long off. But Woakes was not in a rush, and he and Stokes sewed together the biggest partnership of the game.
Stokes first drove Paul van Meekeren through the covers, then he drove Bas de Leede on the rise and swung to drag him wide of square-leg. However, he reduced the risks after witnessing Jos Buttler find mid-off with a feeble chip. Nevertheless, he hooked to fine-leg and Aryan Dutt grassed it on the dive on 41, making an offering. However, Stokes generally resisted the need to go crazy until the appropriate moment.
Establishing the stage
England crept at an average of 3.5 an over between overs 27 and 39, going 62 deliveries without a boundary while Woakes and Stokes steadied the innings and put it above the Dutch. The rhyme-paired bowling of the Netherlands was countering the bowling that had so memorably broken the South African middle order.
"I aimed to delve as far inside the game as I could. We were aware of the good wicket. We used that time to measure, evaluate, and determine the ideal conditions for taking chances," Stokes further stated. He scored 50 runs in the last 20 balls.
In the 43rd over, Stokes, who had shown some grit against Australia in the previous match with a 64, would score his second fifty by cutting De Leede off at midwicket with his front leg for his maiden six.
In the 45th, three more came as Aryan Dutt went absolutely insane. Stokes bounced back to swipe it over extra cover as it avoided two diving fielders when he bowled short in the first place. Stokes would hook a high full toss far over fine leg after moving further back in the crease to drag the next short one to deep square leg for a maximum. He swung the loose hit to the deep mid-wicket fence after it fell in the slot. There were 24 runs in the over.
To upset De Leede, Stokes hit the bowler squarely over the head with his best six. Stokes had pushed England to a comfortable score by the time Logan van Beek's missed yorker was destroyed as a full toss over long-on in the 50th over.
After a middle-overs fiasco was averted, Stokes once again pulled England out of trouble with a quilted reply at the backside. Now, Buttler's team will go to Kolkata to play Pakistan in the final. "We beat Bangladesh," a cheeky poster in the stands read. Stokes made sure the Netherlands didn't humiliate themselves.