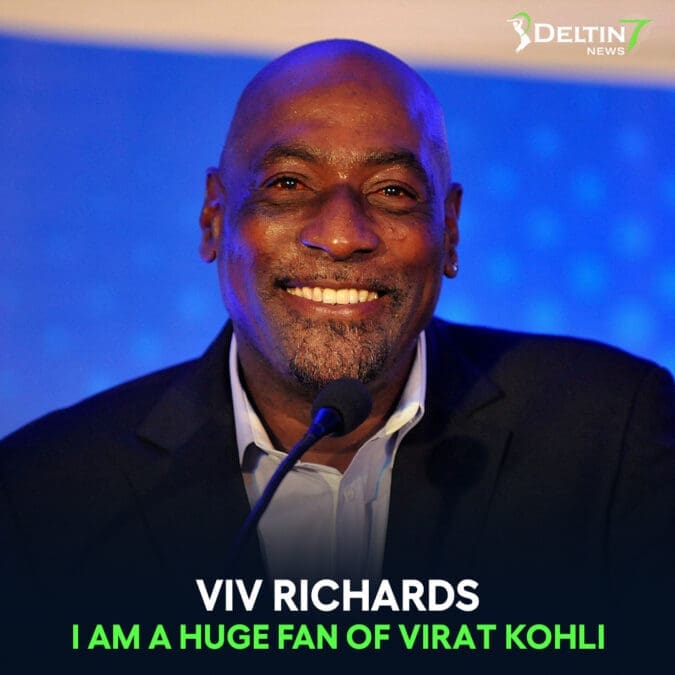 I am a huge fan of Virat Kohli: Viv Richards
It's not often that a cricketer is hailed as one of the all-time greats while still in the prime of his career. However, Virat Kohli is no ordinary cricketer. His remarkable performances in the 2023 World Cup have solidified his claim to greatness. With his incredible mental strength and unwavering determination, Kohli has emerged as an unstoppable force in world cricket.
Before this World Cup, Virat will have experienced some difficult moments, and some people were even bold enough to demand his head. The people in the backstage and those who supported him deserve recognition. Despite everything that has been stated about his form, he is back to his best. It is amazing to watch someone who has experienced setbacks recover and perform at this level. They believe that form is ephemeral, but he has unquestionably demonstrated that class is eternal. He seems so focused and is a credit to the game of cricket, therefore I'm very glad for him," he wrote.
The Rise of a Legend
Since making his debut for the Indian cricket team, Virat Kohli has been a force to be reckoned with. His consistency and hunger for runs have set him apart from his contemporaries. But it hasn't always been smooth sailing for Kohli. He faced a challenging period between November 2019 and September 2022 when he went without scoring a century. However, even during this lean patch, Kohli continued to contribute with consistent 50+ scores across all formats.
Mental Strength and Resilience
One of the key factors that sets Kohli apart from his peers is his mental strength. Throughout his career, he has shown an unwavering belief in his abilities and backed himself in the toughest of situations. This mental fortitude has been evident in his performances, especially during the 2023 World Cup. Kohli's ability to emerge unscathed from tough times and bounce back stronger than ever is a testament to his character and determination.
A Credit to the Game
Vivian Richards, the legendary West Indies batsman, has been an ardent admirer of Kohli for a long time. In his column for the ICC, Richards expressed his admiration for Kohli's incredible talent and his ability to handle the pressures of the game. Richards described Kohli as a "credit" to the game of cricket and praised his mental strength as the key to his success. He also compared Kohli's intensity on the field to his own, highlighting the shared passion and enthusiasm for the game.
The Comparison with Sachin Tendulkar
When discussing Kohli's greatness, it is inevitable to draw comparisons with Sachin Tendulkar, the batting maestro. Both players have left an indelible mark on the game and have been praised for their intensity on the field. Richards acknowledged the comparisons between himself and Kohli, attributing them to their shared intensity and love for the game. He emphasized that Kohli's performances have solidified his place among the all-time greats, alongside the likes of Tendulkar.
The 2023 World Cup: Kohli's Dominance
The 2023 World Cup has been a showcase of Kohli's exceptional talent. With 543 runs in eight matches, including two centuries and four fifties, he has been a key contributor to India's success in the tournament. Kohli's hunger for runs and his ability to perform under pressure have been on full display.
The Mental Game: Kohli's Key to Success
Kohli's mental strength has been crucial in his performances during the World Cup. He has displayed unwavering focus and determination, even in the face of criticism and tough times. Richards, in his column, highlighted Kohli's ability to bounce back from his lean patch and prove that class is permanent. This mental resilience has been a driving force behind his success in the tournament.
The Support System: Backing Kohli
Richards also commended the support system that has backed Kohli throughout his career. He acknowledged the role of the backroom staff and everyone who believed in Kohli during his tough times. The support and encouragement he received played a vital role in his resurgence. Kohli's ability to silence his critics and perform at the highest level is a testament to the faith and support he has received.
A Phenomenal Talent: Shubman Gill
While Kohli has been the standout performer, Richards also praised the young talent in the Indian team, particularly Shubman Gill. He described Gill as a player who bats with style and possesses all the big shots. Gill's emergence has added depth to the Indian batting lineup and has been instrumental in their success in the World Cup.
The Road Ahead: Kohli's Legacy
With his remarkable performances in the 2023 World Cup, Kohli has left an indelible mark on the game. He has solidified his place among the all-time greats and has set new standards for excellence. As he continues to lead the Indian team and inspire future generations, Kohli's legacy will be defined by his unwavering determination, mental strength, and his ability to dominate the game like few others before him.
The Pursuit of Greatness
Kohli's hunger for success and his pursuit of greatness will continue to drive him forward. He has already achieved remarkable milestones, including equalling Sachin Tendulkar's record of 49 ODI centuries. With 79 centuries in international cricket, Kohli is second only to Tendulkar in terms of centuries scored. His relentless pursuit of runs and his desire to push boundaries will ensure that he leaves an enduring legacy in the sport.
Conclusion
In a game that has seen countless legends, Virat Kohli stands tall as one of the all-time greats. His mental strength, unwavering determination, and hunger for success have set him apart from his peers. The 2023 World Cup has been a testament to his dominance and his ability to perform under pressure. As Kohli continues to etch his name in the annals of cricket history, his legacy as an unstoppable force in world cricket is secure.