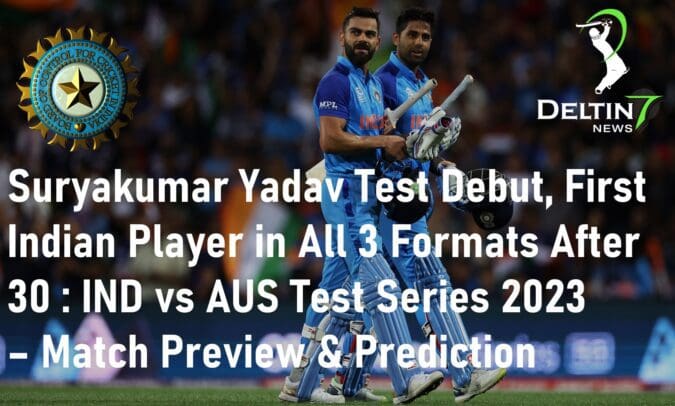 Suryakumar Yadav Test Debut, First Indian Player to Attend in All Three Formats After 30: Surya Kumar Yadav is a name synonymous with T20 cricket, a format in which he has established himself as one of the most dependable and flamboyant cricketers in the Indian team. After years of consistent performances in domestic cricket, he finally got his big break in international cricket in March 2021, and he hasn't looked back since.
With his recent inclusion in the Test team, Surya Kumar Yadav has become the first Indian cricketer in history to make his debut in all three formats after turning 30 years of age.
Yadav has been a prolific scorer in First-Class cricket, with an impressive 5549 runs from 79 matches. Despite his strong track record in the format, he was not considered for selection for the Test team for a long time due to his consistency issues. However, in recent years, the 32-year-old has worked hard on his game, and the team management now believes that he is ready for Test cricket.
His Test debut against Australia on February 9, in the first Test at Nagpur, comes in the absence of Rishabh Pant, who has been ruled out due to injury. This means that Yadav has the responsibility of scoring quick runs in the middle, and he will be given the freedom to play his natural game. The Australian bowlers will have a tough time trying to stop him if he manages to get going.
Along with Surya Kumar Yadav, wicketkeeper-batter KS Bharat also made his debut for India in the first Test against Australia. Bharat has been waiting in the wings for a long time, with Pant and Wriddhiman Saha being the first-choice keepers for India after MS Dhoni's retirement.
With 86 First-Class matches and 4707 runs under his belt, Bharat brings with him a wealth of experience and will be a crucial player for the Indian team, especially in home conditions.
In conclusion, the inclusion of Surya Kumar Yadav and KS Bharat in the Test team is a testament to the strength of Indian cricket, and fans can look forward to watching these two players bring their unique skills and styles to the five-day format.
With the ongoing India vs Australia Test series, this is an exciting time for cricket enthusiasts, and these two players will undoubtedly play a big role in the outcome of the series.
Suryakumar Yadav Test Debut: India vs Australia Test Series 2023 – Match Preview & Prediction
Bet on Surya and Kohli | India vs Australia Test Series 2023:
Betting on cricket has become increasingly popular over the years, with fans looking to put their money on their favorite players and teams. Surya Kumar Yadav and Virat Kohli are two of the most sought-after players when it comes to betting on cricket.
Surya Kumar Yadav's recent inclusion in the Test team has increased interest in betting on him, with fans hoping to cash in on his potential in the longer format of the game. On the other hand, Virat Kohli, as one of the best batsmen in the world, is always a popular choice for betting.
With his strong track record and consistent performances, betting on Kohli can be a safe option for cricket fans. However, it's important to keep in mind that betting carries risk, and one should always bet responsibly and within their means.
Match Preview & Prediction | India vs Australia Test Series 2023:
India is considered to be one of the strongest cricket teams in the world and is often considered the favorite in any match they play. With a strong batting lineup, led by Virat Kohli, and a talented bowling attack, India has the ability to outclass their opponents on any given day.
Additionally, playing at home gives the Indian team an added advantage, as they are familiar with the conditions and have the support of the home crowd. All these factors make India a strong contender and a favorite to win the India vs Australia Test Series.

Suryakumar Yadav Test Debut: India vs Australia Test Series 2023 – Match Preview & Prediction