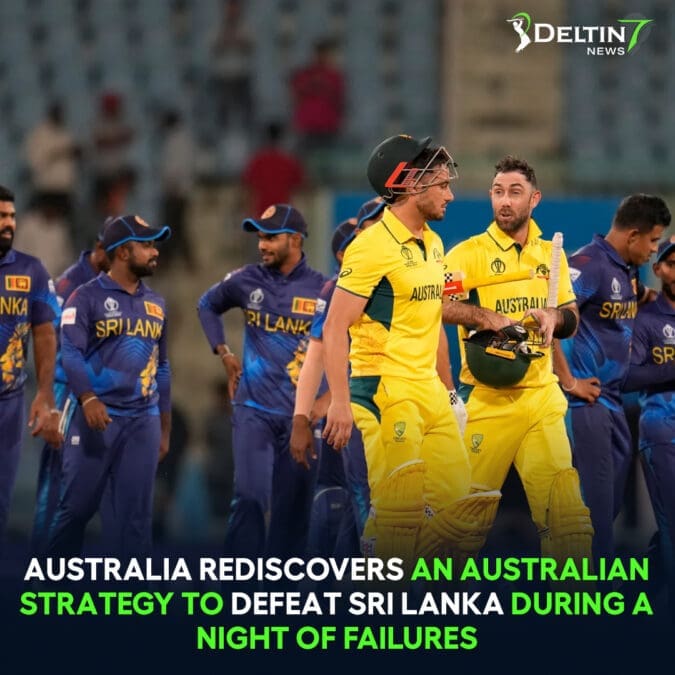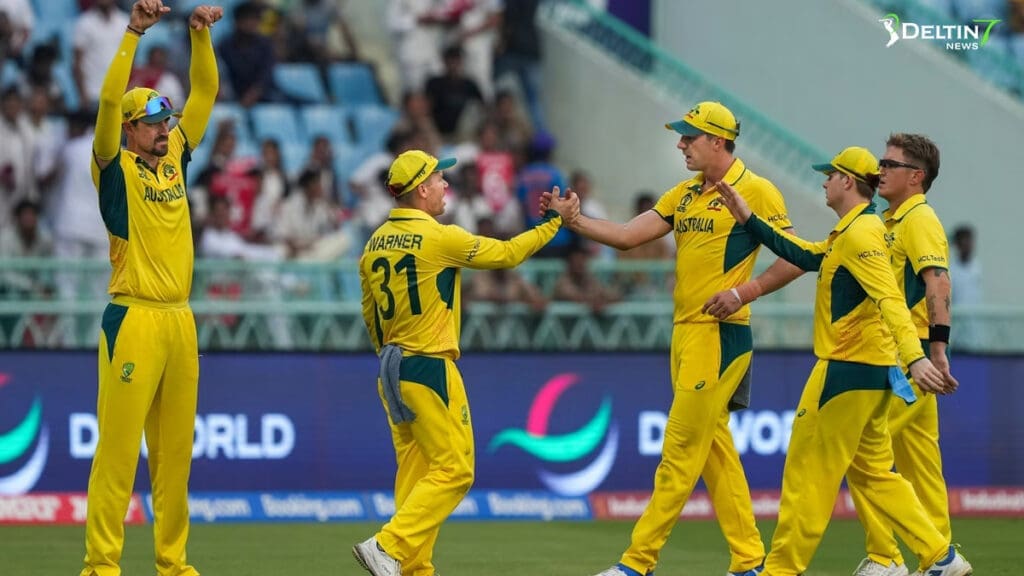 Australia rediscovers an Australian strategy to defeat Sri Lanka
ICC World Cup: Sri Lanka tottered badly skit 209 in the 44th over from cruising along at 125 for no loss in the 22nd over.
The evening was filled with disasters. Minutes before Australia defeated Sri Lanka, the World Cup-logoed hoardings of the boudin-shaped roof fell dramatically and dangerously into the light-blue seats in the stands. Some clung to the frame's edges and flailed wildly in the sudden breeze that appeared. The entrance to the tunnels, which had been sculpted to resemble the guards' perch of Mughal forts, was where spectators raced for cover. The game was interrupted for 30 minutes by a furious rainstorm, intermittent power outages, and a wind of dust.
However, Sri Lanka and Australia worked together to create the largest collapse tale, which equals Pakistan's recent collapse in Ahmedabad in terms of suddenness but lacked the bitterly partisan crowd's shrill animosity. Sri Lanka tottered badly skit 209 in the 44th over from cruising along at 125 for no loss in the 22nd over. Despite some difficulties (they were 2 for 24 and 3 for 81), the Australians completed the chase with 15 over remaining and all five of their wickets in tact.
This encounter was just what Australia needed to boost their spirits, restart their campaign, and finally breathe a sigh of relief. The triumph did not establish a model for future victories; there is still hope and some things are starting to come together. They can dream, hope, and take a big breath of relief till they meet Pakistan, regardless of whether this prompts a sudden reversal. Something is there for you to hold onto. Perhaps this explains the subdued celebrations after Marcus Stoinis hit a six to end the game.
After two and a half games into the competition, Australia finally rediscovers itself. The struggle, the vigor, the conviction, and each and every feeling you identify with them. It roughly resembled the style of play that Pat Cummins had described as being Australian. "When we perform at our best, we score significant runs. We are once again applying pressure to the adversary. We're getting wickets through the middle with our bowling. Therefore, thus far we have not been able to put any of that together," he had stated. They were able to play the Australian style in some spots.
The emergence of their old guard, whose flatness was blamed for the startling events, was the brightest light. Since Cummins was the main character, it is hardly surprising that the team's morale improves whenever the captain puts on a masterful performance.
Cummins bowled with aggression and hostility during his second spell, turning up one of his best performances of the competition. He was vicious and spiteful, bowling with the rage of a rebel. He created the magical wicket that changed the course of the game.
Kusal Perera was struck in the stumps with a ball that was typical of him; it angled in from behind the stumps to the left-hander and beat him with speed, angle, and slight away movement. But he really valued it. His celebrations are typically modest, and a serene smile covers his face. But at this point, he snarled, his arms and neck veins protruding, and pounded the air.
His crew sensed the beginning of something remarkable. A spectacular catch by David Warner of Pathum Nissanka to break a 125-run partnership just a few overs ago kept them in the contest. Nissanka top-edged after Warner was lured into pulling by Cummins, who then sprinted from the square-leg fence to midwicket to bag the catch.
Australia had previously appeared completely deflated, as if they were reliving the first two games. Their poor bowling, careless fielding, and dubious tactics had caught up with them once more. However, as the saying goes, or to modify the unoriginal tournament tagline, "it takes a day," it only takes a single flash of brilliance on the field or a magnificent ball to turn the tide and restore optimism.
A buzz, a rush of energy, and a spike in dopamine suddenly appeared. They made more noise and stank more. Men who were saving singles then worked as catchers. The steps of bowlers were charged with energy. Wickets were times of ferocious revelry. Australia played with joy once more, and it was enjoyable to see them play as they made a comeback from yet another challenging encounter. When they were 125 for 0, they would find their chances of winning the World Cup again dwindling. However, Australia consistently recovers after falling or being written off.
Adam Zampa, a different vilified and criticized Australian bowler, picked this time to retaliate. With the googly and cross-seamer (which veers into the right-hander), he teased Kusal Mendis, a mainstay of Sri Lanka, before hanging the leg-break. One of his strokes with a high percentage, the sweep, was unpacked by Mendis. Warner clutched at the ball after he miscued, and then he let out a rage-filled scream that could be heard all the way in the stadium's shopping center.
Sri Lanka suddenly began to tremor. They appeared dazzled, their minds wandering. They received befuddled batsmen when they wanted ice-veined ones. Nobody knew how to stem the rot, whether it was for a lack of knowledge or expertise, or possibly both. Instead, fear took hold, and they withered like the roof's claddings. Sadeera Samarawickrama was swallowed by Zampa, a force reborn, with a cross-seamer that skidded onto the pads. Australia began to strut like the Australia of old after that.
When it started to rain and whistle, Sri Lanka appeared even more frightened. Australia increased the stakes and went for the kill when they detected this dread. The hesitant Dhananjaya de Silva was bowled by Mitchell Starc, who was bowling as quickly as he had all tournament, with a delivery that angled into him from below the stumps. De Silva played the ball in the incorrect direction and inside-edged it back onto his possessions.
Surprisingly, Perera, Samarawickrama, and de Silva were three of Sri Lanka's batsmen who lost their lives after playing down the wrong line. This was characteristic of Sri Lanka in this competition; they stalled in all three games by failing to end the game when the chance arose. They could have increased the score against Pakistan above 350 if not for the last four wickets going for 20 runs.
They lost their momentum against South Africa in the middle overs, losing three wickets for 41 runs. A team as experienced as Australia, who were desperately trying to turn around their campaign, were not in the mood to let them off easy. But it remains to be seen if this circumstance ushers in a turn of events. Their fate is comparable to the hoarding fluttering in the wind with one end still attached to the roof and the other just inches from falling free yet still clinging to the wall.