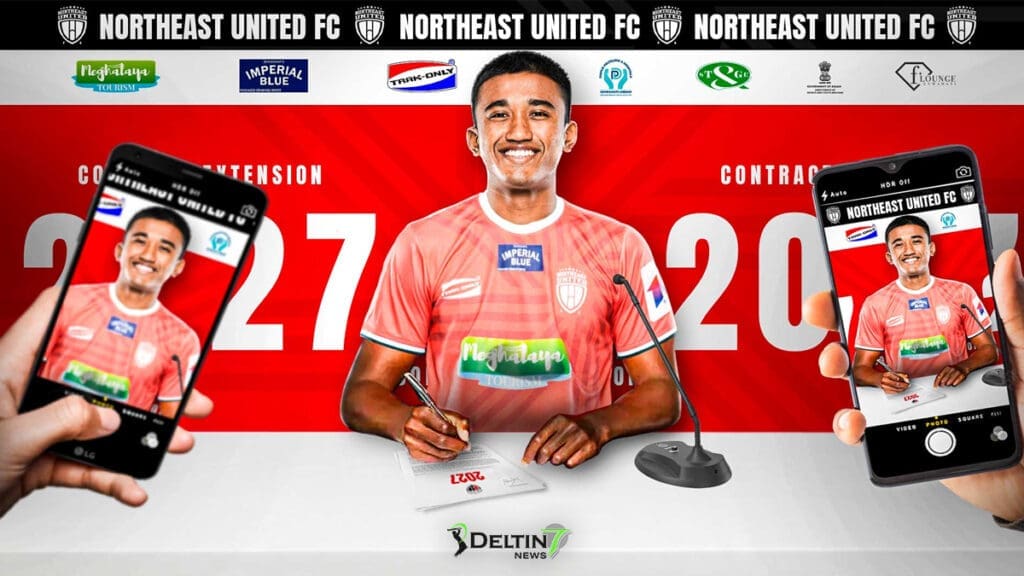 NorthEast United FC Extends Parthib Gogoi's Contract
NorthEast United FC, a prominent football club in the Indian Super League (ISL), has made waves with its recent announcement regarding the contract extension of their young and promising forward, Parthib Gogoi, until the year 2027. This exciting development has sent ripples of enthusiasm through the club's fans and players, and rightly so. Parthib's journey, his remarkable contributions to the team, and the promising future that lies ahead for both him and NorthEast United FC are the focal points of this article.
Parthib Gogoi: Rising Star of NorthEast United FC
Parthib Gogoi, a 20-year-old winger hailing from the state of Assam, became a part of the NorthEast United FC family in 2022. His debut in the Indian Super League marked the beginning of what promises to be a captivating career. Parthib's journey has been characterized by immense potential, relentless determination, and natural talent. Since his debut in October 2022, he has consistently demonstrated growth and an unwavering commitment to his craft, making him a valuable asset for the team.
Head Coach Juan Pedro Benali, instrumental in harnessing Parthib's talent, has been impressed by the young player's remarkable development. Parthib's growth has been nothing short of exceptional, and this has been particularly evident in the ongoing ISL 2023-24 season. In this season, Parthib has left an indelible mark on the league by scoring three sensational goals, all from outside the penalty box. His ability to score from distance reflects his knack for creating opportunities and contributing significantly to the team's success.
An Exciting Contract Extension
The recently announced contract extension for Parthib Gogoi until 2027 underscores the club's trust and belief in his potential. It is a testament to Parthib's unwavering dedication and remarkable performances on the field. Expressing his deep honor and excitement about continuing his journey with NorthEast United FC, Parthib emphasized the club's significance in his life. To him, it has become a second home, a place that has offered him invaluable opportunities. With his contract extended, he is eager to contribute more to the team and make the fans proud. The future holds the promise of achieving great things together.
The Impact of Parthib Gogoi
Parthib's impact on the field extends beyond his impressive goals. His overall contributions to the team's performance are significant, making him a well-rounded player. His relentless work ethic, coupled with his natural talent, has marked him as a player to watch. With each match, Parthib solidifies his position as an indispensable asset to the team, and it's clear that he has the potential to become a club legend for NorthEast United FC.
#Parthib2027 📝✍️ #NEUFC #StrongerAsOne #8States1United pic.twitter.com/ivAmWrwnz4

— NorthEast United FC (@NEUtdFC) October 16, 2023
Recognizing Parthib's Potential
The recognition of Parthib Gogoi's potential is not limited to the club alone. Recently, he was selected to represent India in the under-23 AFC Asian Cup qualifiers, an honor that reflects his talent and the impact he has had on the Indian football scene. As crucial events like the FIFA World Cup qualifiers and the AFC Asian Cup approach, Parthib undoubtedly has his sights set on securing a spot in the national team, making it a significant step in his burgeoning career.
The Role of Head Coach Juan Pedro Benali
Head Coach Juan Pedro Benali has played a pivotal role in transforming NorthEast United FC. Under his guidance, the team has experienced a remarkable turnaround, with Parthib Gogoi standing out as one of the star performers. Benali's trust in Parthib's abilities and his commitment to nurturing the young winger's skills have been instrumental in Parthib's development. His philosophy, which allows players like Parthib to express themselves freely on the field, has been the catalyst for Parthib's growth and impressive performances.
Coach Benali anticipates an even brighter future for Parthib, stating, "Parthib's development has been outstanding, showcasing immense potential on the field. His work ethic, combined with his natural talent, makes him an invaluable asset to our team. We eagerly anticipate nurturing his skills further and witnessing him achieve new milestones in the upcoming seasons."
The Journey Ahead
With Parthib Gogoi's contract extended, the future appears promising for both the player and NorthEast United FC. As he continues to grow and hone his skills, fans can expect to witness more exceptional performances on the field. Parthib's dedication and talent, when combined with the support and guidance of his teammates and coaching staff, are likely to play a pivotal role in the team's success in the coming years. His journey symbolizes the potential that lies untapped in various corners of India, waiting to shine on the football pitch. It's a story of growth, dedication, and the exciting promise of what the future holds for Indian football.
Conclusion
The contract extension of Parthib Gogoi with NorthEast United FC until 2027 is a testament to his exceptional talent, consistent growth, and remarkable contributions to the team. As he continues his journey with the club, Parthib aspires to become a club legend and make the fans proud. With the guidance of Head Coach Juan Pedro Benali, his potential will be nurtured, and he will have the opportunity to achieve new milestones in the upcoming seasons. The future looks bright for both Parthib Gogoi and NorthEast United FC as they strive for greatness in the Indian Super League. With Parthib leading the charge, the club is set to embark on an exciting and successful journey.